The SU Building is now closed, however staff are still available via email, further details regarding the current situation can be found here:
Opening Times: SU 09:00 - 16:00 Bar Closed
Academic Support
YSJSU are here to help you – whether you want to submit an appeal, been called in on suspicion of academic misconduct, or just have a general query. Your academic interests are at the heart of our advice service. So don't wait around, it's better to talk sooner rather than later.
Want to chat?
There are a couple of things you can do. E-mail [email protected] to book an appointment to speak to an advisor at the next available point. You can also contact via 01904 629816 and ask for a telephone consultation or book an appointment. Alternatively e-mail Paul Murtough, Student Voice Coordinator at [email protected] to seek immediate advice.
Testimonial
'I would like to express my thanks to Student Union for their instruction throughout a difficult and complex case. They were able to give the correct advice in terms of procedure, and explaining the process for the duration of the case. They were able to gently guide me through every stage and reassure me with any concerns that I had throughout the complaint and appeal process. As a result the outcome was successful, I can only put this down to the help and support that Student Union were able to give me.' – Student of Art, Design and Computer Science
Exceptional Circumstances
Unfortunately you can't always take control over what happens at university – but there is always assistance there ready for if you need it. To find out more about exceptional circumstances, or to complete a form head here or e-mail [email protected]
Academic Appeals
No decision can be left unturned. If you have received a decision from the university you don't agree with, and it falls in the guidelines below, then you can appeal that decision. Wanting to appeal? You can download the form here and why not come in for a chat? We have a dedicated team on hand to take you through the process. But please be advised, each appeal is dealt with on a case by case – we cannot successfully identify the outcome (if only it was that simple). First of all please consider if your appeal fits in the grounds of the following:
Mitigating circumstances that the institution/examiners were not aware of
Mitigating circumstances that the institution/examiners were not aware of but there is sufficient evidence to state procedure was not followed
A procedural irregularity has occurred (the assessment was carried out unfairly, the assessment was biased)
If it does, then proceed to decide on what you are appealing on:
The decision not to award you a degree/termination from degree
The class of degree you are receiving
The decision of whether you can progress with your studies
The opportunity for re-assessment
The mark you were awarded for an assessment (summative only)
A decision reached by the Transfer Panel (research students only)
Academic Misconduct
PLAGIARISM
We are human, and we make mistakes. Academic misconduct is a term which covers a broad range of topics from plagiarism (making others work appear as your own) to poor scholarship (not referencing correctly). If you are suspected of plagiarism you will be called to a meeting by your lecturers, if this happens you can seek support from the SU by contacting us at [email protected] The university's policy for misconduct can be found here
SELF PLAGIARISM
Submitted an essay? Got a similar topic to write about? Be very careful; it is easy to slip into the mistake of using your previous work to inform your current – using your own work is known as 'self-plagiarism' and is still an offence. If you are in the danger zone then please remember to reference your work as you would any other. If you are suspected of self-plagiarism, as always the SU is on hand to provide support throughout the process.
POOR SCHOLARSHIP
Possibly the most common find, poor scholarship A.K.A bad referencing/paraphrasing is often found in written assignments when work has been incorrectly referenced or paraphrased in such a way that it is almost verbatim what was said by the initial author. You will initially be informed that you have been suspected of misconduct, and it will be at the meeting that the severity of the case is assessed. The university's policy for misconduct can be found here
Fitness to practice/study procedure
Sometimes we find that not everything goes to plan when undertaking a professional or vocational degree. These meetings are called under circumstances such as non-attendance, failing placements and so on. But support is always on hand, just contact one of the team and we can chat to you about it.
Standards Review
Often called when attendance has been low, or performance is called into question. The Students' Union can meet with you to discuss the meeting and attend as an advocate at the meeting itself. If you want to meet with a member of the team then contact [email protected]
Degree Classification
We all want to know the answer to the crucial question, what will I graduate with? It's not an easy question to answer when final results aren't due until early July. BUT we do have a way around it. There is a way to calculate your grades and we have developed the infographic below to help with just that.
What you will need:
E:Vision (results)
Calculator (or your phone)
Just follow the steps laid out in the image to either calculate your current average, or your final classification.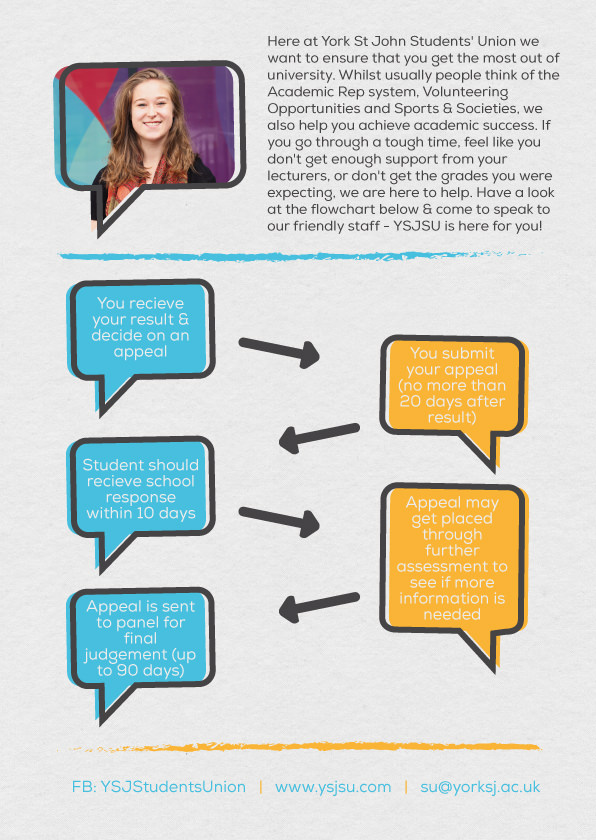 In almost all cases, the exam board use both calculations when finalising awards (degrees). The simple method is, whichever retrieves the greatest result is the one which is used. In this instance, the equal weighting method proved to have the greatest result by 1%.
If you fall just short of where you think you would be – for example getting a 59.9% may seem quite annoying, but the university has a policy which lays out that in that instance (in most cases) you will be pushed up to that all important 60.
Why, you ask?
The university grade boundaries are defined in the barriers of 0-39, 40-49, 50-59, 60-69, 70-100 – we all know that, right? Well what you might not know are the 'grey' areas, also known as 'borderline protocol' These are when your grade sits in between the threshold between the lower grade and higher grade. For example, to achieve a 2:1, we commonly believe it comes in at 60% but under the protocol, you have a chance of gaining a 2:1 if you achieve somewhere within the region of 58.5-58.9, with a higher chance at 59.00. Sounds complex? To learn more click Here
Disciplinary
We understand that we make mistakes, but everyone has their limits and there are lines that cannot be crossed under any circumstance. As a student of York St John University, you have a set of responsibilities and expectations that you must respect. It's failing to do this can result in disciplinary action being taken.
Disciplines are the most severe of actions to be taken against a student and can result in the removal of a student from the university through expulsion or suspension.
You may be called to a disciplinary if you have been investigated on suspicion of harassment (of any kind), misuse of Social Media etc. You can find the range of offences covered in the university's 'Bulling and Harassment' Policy here. Similarly the Students' Union operates a Zero Tolerance Policy to harassment which can be found here
As always, the Students' Union can support you throughout the process, should you wish to seek assistance you can contact us at [email protected]
Please be aware that with disciplinary action, much like any other case we are not presented information prior to you seeking our help, so when attending a meeting please bring all relevant information along with you so that we can be sure to advise you correctly.
Awards


Our Contacts
York St. John Students' Union
Lord Mayor's Walk
York, YO31 7EX