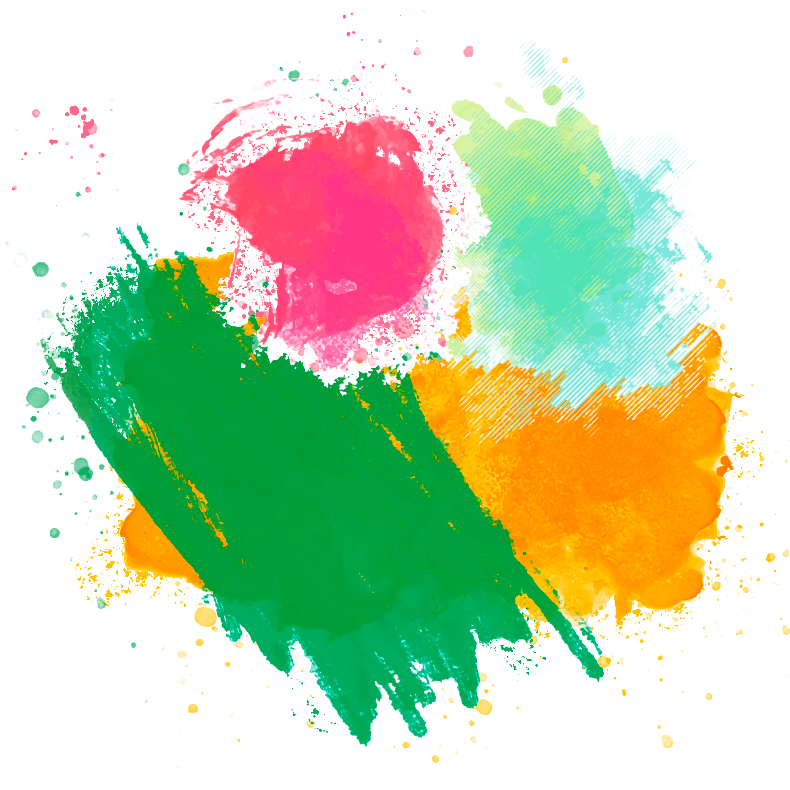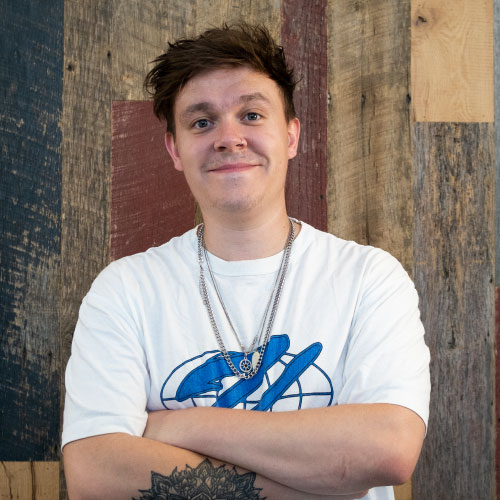 President of Students' Union
Jamie Andrews
President of the Students' Union
I'm Jamie and I'm your President of the Students' Union. As part of my role, I'm elected to represent the student body and ensure that you feel you're having the best time you possibly can at York St John.
As the President of the Students' Union, I am the student lead on all things extra curricular; covering sports clubs, societies and general activities. I also look after some of the governance for the Students' Union, chairing the Board of Trustees and being the only student representative on the University's Board of Governors.
My Manifesto
Fun
I want to create bigger and better events at the Students' Union. After hosting karaoke and the quiz nights for two years, I have an understanding of what makes events successful and I want to use that knowledge to make the Students' Union the number one place to spend your night. I want to bring live music and entertainment into the union whether it's a band, DJ set or even stand-up comedy. York has a wealth of talent and we need to tap into that. I want the students of YSJ to be able to enjoy the best of what York has to offer in the comfort of their own SU bar.
Inclusive
I want to lobby the university to eliminate graduation fees! After spending £27,000 on tuition fees, why should the student population have to pay to attend their own celebration event? As a widening-participation university, we pride ourselves on our students coming from sections of society that don't typically attend university such as; being from low socio-economic backgrounds, being part of a minority ethnic group, being a care system leaver etc, so why are we treating these people like customers and charging them to attend their own celebration?
Representative
Every student deserves equitable representation, and by equitable, I mean providing the opportunity for those from typically marginalised groups to be elevated to the same platform as everyone else. I want to work alongside the President of Wellbeing and Diversity and the liberation officers to ensure that everyone has equitable representation and feels included in every aspect of university life.
Engaging
I want to ensure that the union is engaging the student population in real world affairs. 18-25-year olds are one of the most powerful demographics in the country and university is the perfect time to become involved in events affecting the world such as general elections. I want to ensure the union is constantly educating and engaging students in affairs that have the potential to affect their future.
Supportive
Coming to university can be a really daunting experience for some people, especially that first month. I want to start a parent a fresher scheme to help support those people coming to the University through the period around and after Welcome Week. Second and third years will "couple up" and look after a fresher during their first month at university acting as a point of contact for them. This will help the first years to acclimatise to life at university and will hopefully encourage them to get involved with the wider aspects of university life such as sports, societies and events.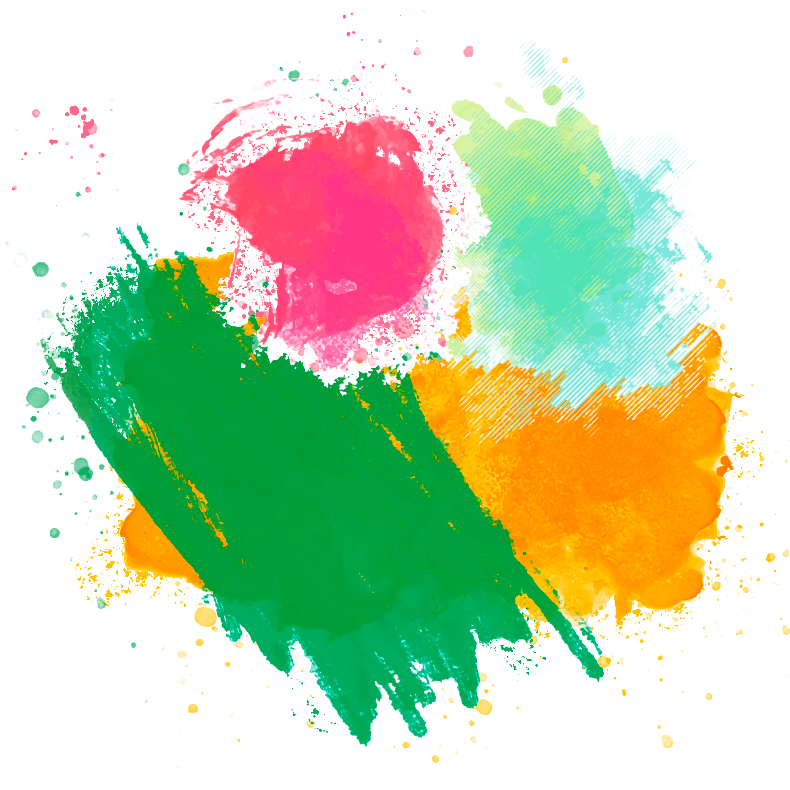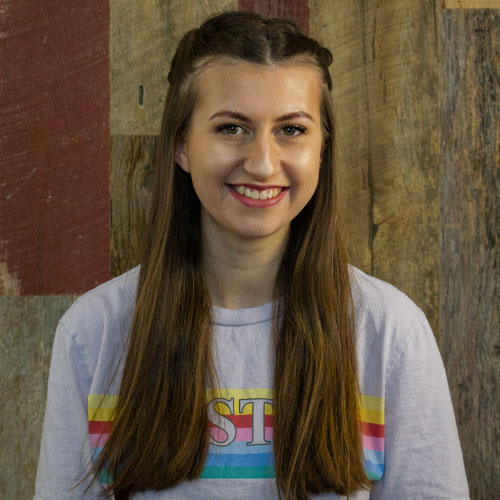 President of Education
Jenny Marchant
President of Education
I'm Jenny and I am the President of Education at York St John Students' Union. My role consists of representing you and your education, looking after your academic needs and concerns.
I oversee the Academic Representation system, to ensure students are heard in their education and so that you feel supported throughout your time at University. I work with the University to create educational provisions that benefit students and lobby for changes to improve your education.
My Manifesto
Stress Less
I want to work with the University to promote a better understanding of student mental health, how staff can best support students, and encourage a healthy work/life balance for students whilst obtaining their degrees.
Sustainable Education
Both the University and the Students' Union need to recognise the footprint we leave on the environment. I want to work with the University to ensure we are doing all we can in the education sector to improve sustainability.
Student Voice
The student voice should be at the forefront of the University's agenda. I want to forge a partnership that enables you to take charge of your education, have your say, and feed into any decisions the University make.
Lecture Capture
With an increasingly diverse student population, and an increase in distance learners, I want to lobby the University to implement lecture recording. This will provide additional support to those who are not always able to travel to campus, and act as a great study aid to recap what was covered in class.
Inclusivity and Accessibility
I want to ensure that students of the University with additional needs receive the support they need to fully access all of the educational opportunities the University offers and promote the services available.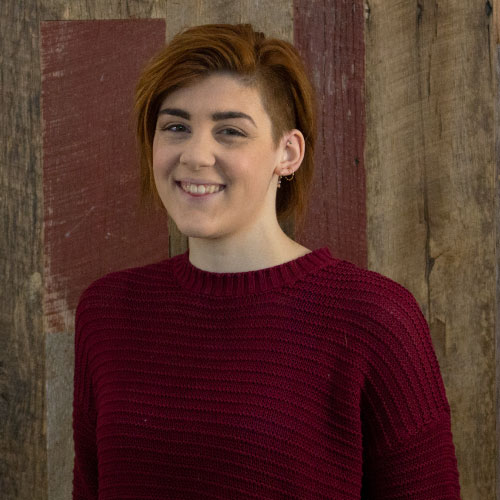 President of Wellbeing & Diversity
Emma Palmer
President of Wellbeing and Diversity
I'm Emma, the President of Wellbeing and Diversity, and I oversee the inclusivity and welfare representation of students at York St John University. I work closely with the other Presidents to ensure your views are heard and that you have the best time whilst studying.
Working with and supporting the Liberation Officers, we ensure that every individual is represented and feels included within the Students' Union and University by running campaigns to raise awareness for issues faced and working on solutions to tackle them. I liaise with the University on behalf of students regarding issues such as discrimination, workload, accessibility, and student expectations, concerns and experiences.
My Manifesto
Student Life
It's tough, you have no money, not enough time, too many essays and you just want a nap. I want to give the chance for all students to have access to a chill out zone, a quiet, comfy, safe place where anyone and everyone can come to destress, have a cuppa and have a chat (or even that nap!). Within this I will give the chance for students to get support for: student living, whether that's getting information about renting or sorting out issues within your accommodation, student funding, first time away from home, absence from lectures, relationships and friendships, and any other issues you might face.
Student Funding
I'm a student, I know what it's like to live off beans for what feels like weeks. The student funding team offer so much help from advice to a foodbank accessible to everyone, and I want to reduce the stigma surrounding poverty and increase the help you can receive by working closely with them.
Scrap the Stigma
At University you will face new, exciting and scary situations. No matter what I will be available to any and every student at any time should you need someone to speak to. Whether you want advice, a rant, a good old natter or even a hug, I want to give you a stigma free zone. For students to talk to each other in a similar environment, I will arrange coffee and cake mornings to meet people in similar situations.
Trash the Taboo
Alcohol abuse, drug use, sexual assault, racism, homophobia, hate crime, poverty. Everyone will know someone who has experienced one or more of these, whether that's yourself, a friend, a parent, a lecturer. And you might not know. I want to raise awareness of these issues at university and get rid of the taboo around these words and activities. It is nothing to be ashamed or afraid of, and I will work with you and the wellbeing team to support you in any way possible, whether that's being a shoulder to lean on or a point of contact within the university.
One big family
I want to connect people from different courses, different sports teams and different backgrounds by creating mix and mingle socials, arranged by you for you. I'll give chance for those who don't take part in any sports or societies to meet new people in ways that you might not expect!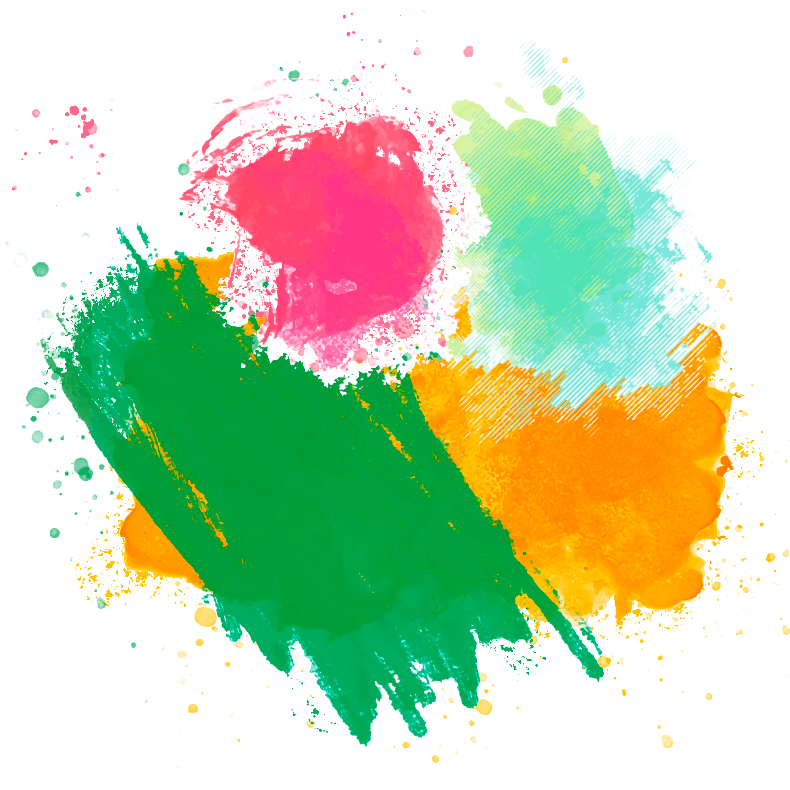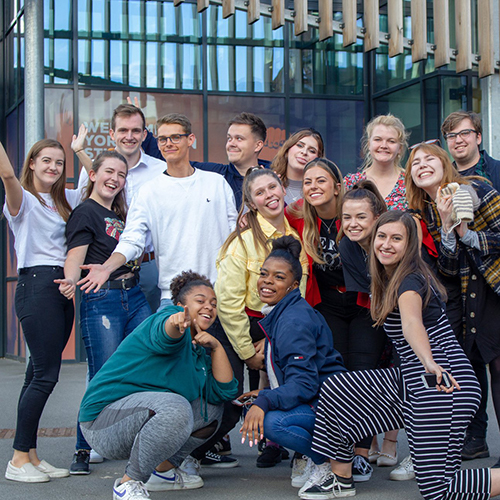 Part Time Officers
Part Time Officers
Our Part-time Officers are elected volunteers who take time out to represent you in different meetings across the University. They're split into Chairs of School and Liberation Officers. Throughout the year, our Part-time Officers run campaigns and work closely with the Presidents to ensure the University is always listening to its students.
Chairs of School
Chair of Arts – Aimee Yeoman
Chair of Education, Language and Psychology – Millie Whiteford
Chair of Humanities – Dominic Bramley
Chair of Science, Technology and Health – Jane Nesworthy
Chair of York Business School – Heather Graham
Liberation Officers
Postgraduate and Mature Students Officer – Chris Smith
LGBTQ + Students Officer – Emily Balmer
International Students Officer – Marissa St Ange
BAME Students Officer – Kalen Reid
Disabled Students officer – Kai Aspinall