Chair of School Spotlight | Steph Foxton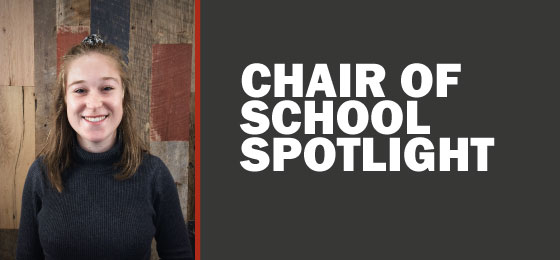 Hi! Who are you and what is your role?
Hi! My name is Steph and I am the Chair of School for Languages & Lingusitics
Describe yourself in three words!
Organised, hard-working and fun
Awesome. What degree are you doing?
English Language & Lingusitics
Are you involved in any Sports or Societies? If so, which ones?
I'm involved with the Linguistics Society and I am on the committees for Badminton and Hockey
What is your best memory of YSJ so far?
Playing for the university hockey team and we beat Newcastle 3s 5-0 when we only had 8 players on the pitch - I've never run so much in my life but it was totally worth it!
Nice! So, a bit more about your role... why did you run for it?
After being a course rep for a year I felt that I wanted to be more involved with the SU and help improve students' experience at university even more!
And what do you aim to get out of your term?
I'm aiming to improve communication links between staff and students and hopefully working with the different course-based societies within the school to further improve student engagement. More importantly though, I want to make sure students are enjoying their time here at York St John because it's such an amazing university!
What do you have planned for your Course Reps?
I plan to make being a Course Rep as fun as possible so meeting up for coffees, going out for Course Rep meals (Nandos FTW) and creating mini Dialogue Days where they can chat openly with members of staff in a relaxed environment - although if they're super competitive, bowling won't be very relaxing!
Ok, now for the fun round... Full English or Pancakes?
Full English!
Old SU or New SU?
New!
Christmas Archie's or Summer Archie's?
Summer!
Top 5 library session jams - go!
That's a tough one! I am partial to my mum's homemade blackberry jam... Songs-wise I'd go with:
Lone Digger - Caravan Palace
If You're Listening It's Never Too Late - Captain Cuts
The Less I Know The Better - Tame Impala
Source - Fever The Ghost
Forever - HAIM
Final question - if you could give any first year student a single quote of advice, what would it be?
I would say university is a unique experience that you'll struggle to recreate as you get older so try everything - you want to dye your hair a weird colour? Go for it! If you want to try out a new sport, do it! If there isn't a society or sports team that interest you, make a new one!
Basically do as much as you can before your 3 years are over
Awards


Our Contacts
York St. John Students' Union,
Lord Mayor's Walk,
York, YO31 7EX