Chair of School Spotlight | Matt English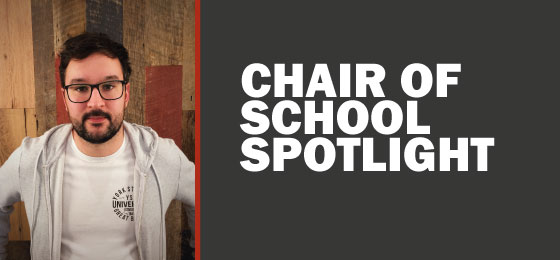 Hi! Who are you and what is your role?
Hi! My name is Matt English and I am your new Chair of School for Business
Describe yourself in three words!
Fun, Chilled and Competitive
Awesome. What degree are you doing?
Business Management and Human Resource Management
Are you involved in any Sports or Societies? If so, which ones?
I'm involved with the SW5 5 a side Sunday League
What is your best memory of YSJ so far?
Summer Archie's day! Always a highlight!
Nice! So, a bit more about your role... why did you run for it?
I used to work at YSJSU in a full time position before deciding to do a degree so I thought with my knowledge of how the union works, I could help people.
And what do you aim to get out of your term?
Ideally, I want to strengthen the communication between lecturer and student. The Business School are great with the support they offer for students but I feel like most students don't think to take advantage of that support so I'd like to get students involved.
What do you have planned for your Course Reps?
I'd like to make being a Course Rep worthwhile. Student's will often be told that being a Course Rep looks great on a C.V, I want to make sure it actually does. That means working with them to make sure they are getting as much out of the role as they want.
Ok, now for the fun round... Full English or Pancakes?
Not even a question, Full English all the way
Old SU or New SU?
Ooo tough one! The new SU for being a modern building and a great place to work. Old SU for the memories!
Christmas Archie's or Summer Archie's?
The Christmas Archies day has a really good atmosphere but I've got to say Summer. Live Music, BBQ and chilling outside gives it a bit of a festival feel
Top 5 library session jams - go!
My music taste is all over the place but the 5 songs I probably listen to the most are

1. All Tvvins – Thank You
2. Don Broco – You Wanna Know
3. City and Colour – The Lonely Life
4. Stevie Wonder – Higher Ground
5. A classic. George Michael – Careless Whisper
Final question - if you could give any first year student a single quote of advice, what would it be?
Just put yourself out there and go for whatever you want. Want to join a sports team but think you won't be good enough? Just go for it. Have an issue with your course but debating whether to say something? Do something about it.
Life is too short to worry about what people think and whether you're good enough. Being at Uni is all about getting out there and doing what you want to do to better yourself
Awards


Our Contacts
York St. John Students' Union,
Lord Mayor's Walk,
York, YO31 7EX