Chair of School Spotlight | Laura Castle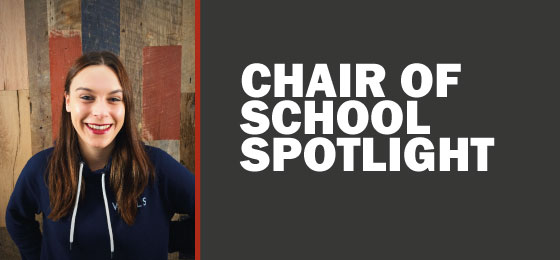 Hi! Who are you and what is your role?
Hi! My name is Laura Castle and I am Chair of the School of Performance and Media Production!
Describe yourself in three words!
Helpful, Approachable and Fun.
Awesome. What degree are you doing?
Theatre
Are you involved in any Sports or Societies? If so, which ones?
Yes, I am currently part of the Musical Production Society, which I love!
What is your best memory of YSJ so far?
My fondest memory of YSJ so far has to be the Soirees that our course throws each year, its a fun time to share our work and socialise with other students on the course!
Nice! So, a bit more about your role... why did you run for it?
I decided to run for Chair because I was programme rep last year and loved being able to voice the opinions of my course and get them heard. This year being chair is going to be a good challenge for me and hopefully I can make sure that everybody's voices get heard and can keep everyone in the school enjoying university.
And what do you aim to get out of your term?
My aim is to make sure that the students in the school can feel comfortable with giving feedback about what is working and isn't working for them on their course - I will aim to take this further so the students can continue enjoying their university experience feeling like any problems they have will be solved.
What do you have planned for your Course Reps?
I really want to push for myself and the course reps to work together as we will all have the same goal, hopefully we can plan fun activities that will help us work as a team and create a great environment that all courses within the school can be involved in.
Ok, now for the fun round... Full English or Pancakes?
Full English
Old SU or New SU?
New
Christmas Archie's or Summer Archie's?
Christmas
Top 5 library session jams - go!
Shout out to my ex - Little Mix
Seasons of Love - The Rent Cast
Brother - Matt Corby
Let's get ready to Rhumble - PJ and Duncan
Good Grief - Bastille.
Final question - if you could give any first year student a single quote of advice, what would it be?
Don't worry about a thing! (*Jamaican accent* because every little thing is gonna be alright!) no but seriously, third year has happened way too quickly so do everything and anything you want to do whilst you are here and try not to worry or stress about the workload or money, it is more important that you succeed whilst enjoying yourself.
Awards


Our Contacts
York St. John Students' Union,
Lord Mayor's Walk,
York, YO31 7EX