Chair of School Spotlight | Joe Lynch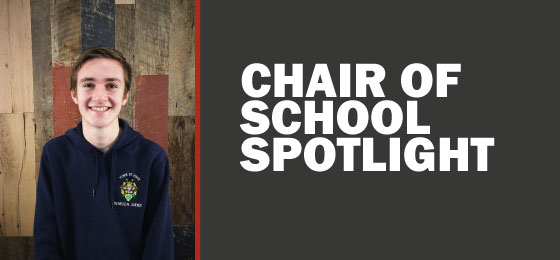 Hi! Who are you and what is your role?
Hi, I'm Joe Lynch and I'm Chair of School for Health Sciences
Describe yourself in three words!
Hard-working, approachable and motivated
Awesome. What degree are you doing?
Biomedical Science
Are you involved in any Sports or Societies? If so, which ones?
I'm the Vice Chair for the Biomed Soc, Social Sec for Badminton alongside playing for Men's Second.
What is your best memory of YSJ so far?
It's hard to choose just one! But I think the Badminton 2075 Reunion social has to top the list, had a great time hitting Kuda in my flat cap and trouser braces.
Nice! So, a bit more about your role... why did you run for it?
Studying under the school of Health Sciences has already given me the best year of my life and I want to get involved in the SU so that others can experience what YSJ has to offer!
And what do you aim to get out of your term?
I'm aiming to maintain and improve the Health Sciences facilities so that we have the best space to study, alongside this I want to ensure good quality placements are there for those who need or want them, and finally I want to promote unity in Health Sciences so that all courses are supporting each other in the study, research and social aspects of YSJ
What do you have planned for your Course Reps?
I aim to have the course reps involved in my work as much as possible so that we're representing the student voice as much as possible. I plan on doing this through regular coffee meetings and bridging the gap between the university staff and students through relaxed meetings! Also just for fun maybe going out for a few drinks and some scran.
Ok, now for the fun round... Full English or Pancakes?
Pancakes
Old SU or New SU?
New
Christmas Archie's or Summer Archie's?
Summer
Top 5 library session jams - go!
I'm a real fan of Popworld so:
She's so Lovely - Scouting For Girls
Ignition (Remix) - R. Kelly
Mambo No. 5 - Lou Bega
Don't Stop Believin' - Journey
Bohemian Rhapsody – Queen
Final question - if you could give any first year student a single quote of advice, what would it be?
University is very much a 'you get out as much as you put in' scenario, so get stuck in and make it the best few years of your life! You won't get another chance like it so don't waste it
Awards


Our Contacts
York St. John Students' Union
Lord Mayor's Walk
York, YO31 7EX