Chair of School Spotlight | George Coombs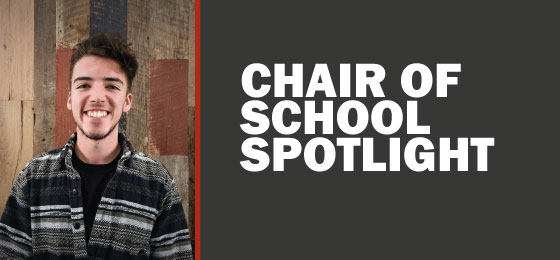 Hi! Who are you and what is your role?
Hey! My name's George Coombs and I'm the Chair of the School of Art, Design and Computer Science.
Describe yourself in three words!
Enthusiastic, Creative, Northern
Awesome. What degree are you doing?
I study Fine Art!
Are you involved in any Sports or Societies? If so, which ones?
I'm currently Club Captain of Badminton and Treasurer of the Volleyball Club, and I play competitively for the Badminton 2nd Team.
What is your best memory of YSJ so far?
Each year has got its own fantastic memories, from every Archie day being a fantastic celebration to finish each semester, to winning the election for Chair of the School of ADC, but winning Sport Personality at last year's Sports Meal was something I'll never forget.
Nice! So, a bit more about your role... why did you run for it?
I wanted to bridge the gap between courses; unite the School so that everyone could work together to actively achieve their potential. There's so much creative ability and talent within the School of ADC, so why not show it off! We're a powerhouse for uniqueness, so let's make sure other institutions are aware of this. To achieve this, communication between staff and student needed to be enhanced. Sometimes the hardest part of change is to acknowledge there are issues, then as a School we can push to make sure the students are enjoying every second, and most importantly reaching their creative capability.
And what do you aim to get out of your term?
I plan to work with the University more to give students a greater spectrum of opportunities to get stuck in with; external projects, group shows, independent schemes. Making sure that students are getting more than just their degree, meaning when they leave University they can tackle anything with confidence. Experience is Key nowadays. As well, honestly, happiness and satisfaction is at the top of my list. If you're not enjoying yourself, tell me why. Let's change it. As scary as it sounds, you're only here for three years! So take every opportunity you can get.
What do you have planned for your Course Reps?
There's a few surprises along the way, but I really want them to lead the charge with major group creative events. The connections between the University and students this year is very strong, so why not show that? The School of ADC needs voices from every course to emphasize what makes us great. Dr Rebekka Kill is as excited as I am in displaying this School for the beauty that it is, and we're going to be using our Course Reps as the main points of call for communication to the rest of the School. Rebekka has a lot of ideas, and we're really excited to get these into action!
Ok, now for the fun round... Full English or Pancakes?
Full English!
Old SU or New SU?
Old!
Christmas Archie's or Summer Archie's?
Summer!
Top 5 library session jams - go!
'Youth' by Daughter (anything Daughter really they're epic)
'Kathleen' by Catfish and the Bottlemen
'Charming Man' by The Smiths (classic)
'Tonight' by Coasts
'Oceans' by Coasts
Final question - if you could give any first year student a single quote of advice, what would it be?
Enjoy every second, as cringey as it sounds.
University is a crazy ride, but it's worth it.
Keep smiling, and have fun.
Awards


Our Contacts
York St. John Students' Union,
Lord Mayor's Walk,
York, YO31 7EX