Wellbeing Monday
Kirsten Jolley
---
As a York St John student, you have free access to an online 24/7 support site called Big White Wall, which is an amazing service! I had a training session with one of the York St John Wellbeing Advisors on how to use big white wall and I was shocked at how much of a unique service it is.
Not heard of the Big White Wall? Take a look below to find out why it could be of great use to you.
What is it?
Big White Wall is an online mental health and wellbeing service offering self-help programmes, creative outlets and a community that cares. There are 'Wall Guides', which are trained mental health advisors that you can talk to and which monitor the site to make sure that everyone is interacting in a safe environment.
There are advisors in New Zealand and the UK, which means that 'Wall Guides' will be online 24/7!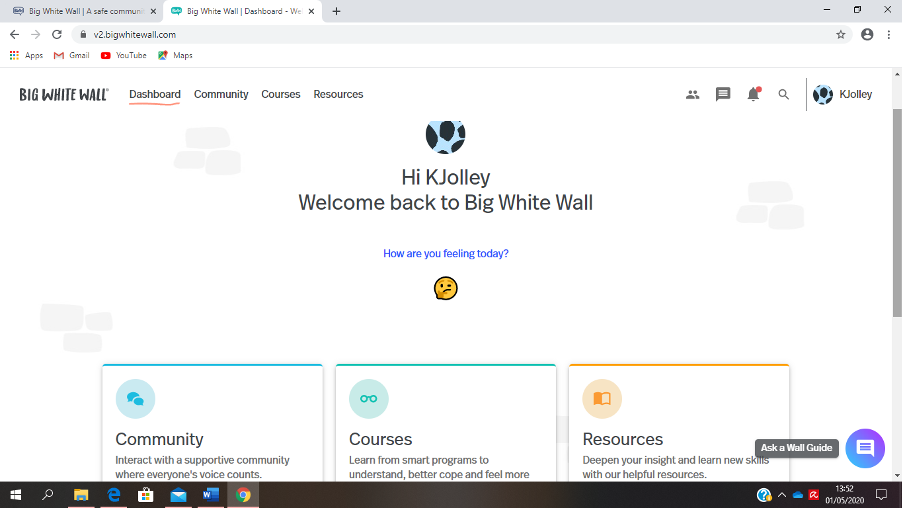 What are some of the features that you think would benefit me?
Art
Art is a form of expression, and therapy for some. There is a space on the Big White Wall for users to share their art work and communicate in this way.
Journal
There is a section on the site where you can keep a journal. This is a good tool to use if you want to track your mood, or your daily progress with things, such as University.
You can also use the goal tracker setting and keep track of your ambitions and progress.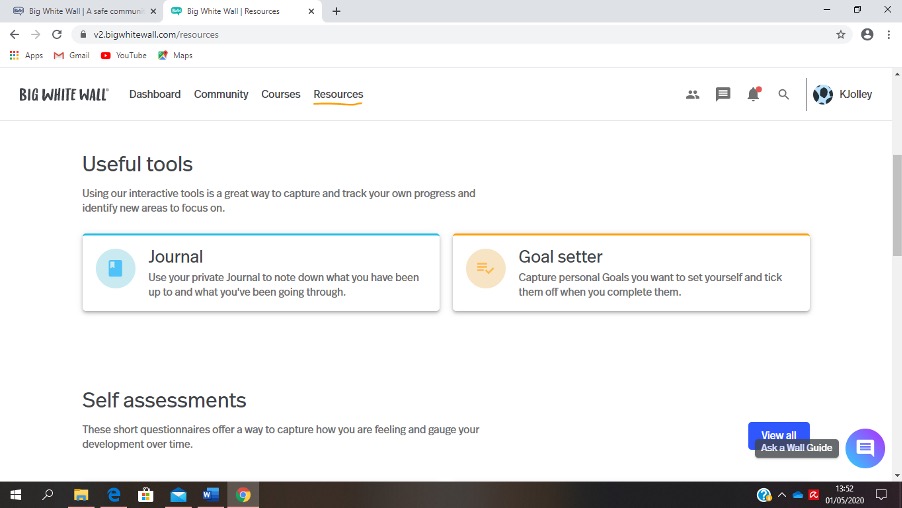 Make Friends
On Big White Wall there is a 'Community' Section. You can post about a topic, such as procrastination or loneliness, for example. Then, the Big White Wall Community will talk with you about this. This acts in the same way as a Twitter thread would, where you can respond and react to posts.
For any topics that are deemed to be explicit, there will be a notice next to the post, so that people aren't exposed to potentially triggering content. If the 'Wall Guides' notice a member of the community is at risk, they will contact that individual privately to make sure everyone is safe. If you establish friendships on the site, you can then create group chats and connect that way too.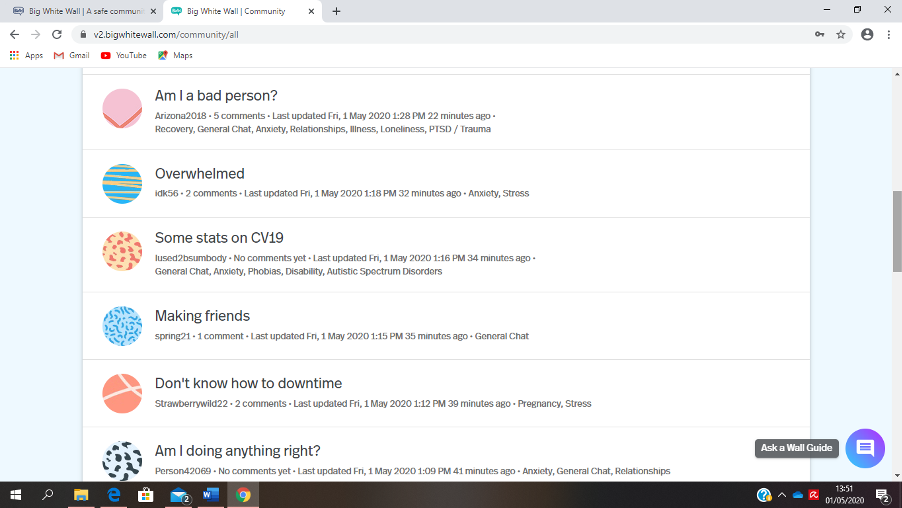 Online Courses
This is my favourite section of the Big White Wall site. You get free access to so many different self help courses. Some of my favourites include: coping with grief and loss, improve your sleep, and managing stress and worry. There are many for you to choose from and they are a really good way to come up with strategies to make sure you are in the best place you can possibly be in during such weird and uncertain times.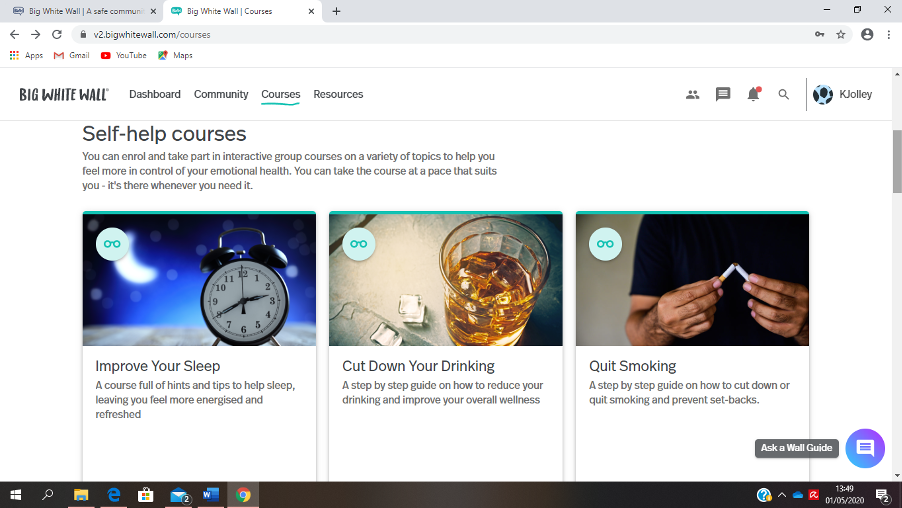 I am currently completing the course aimed to help you stop procrastinating and highly recommend it. I know that when I was a student, I would rather clean the whole house, sort my wardrobes out and faff about with many other small things over starting to plan an essay or revise. So, if you're like me, give it a whirl!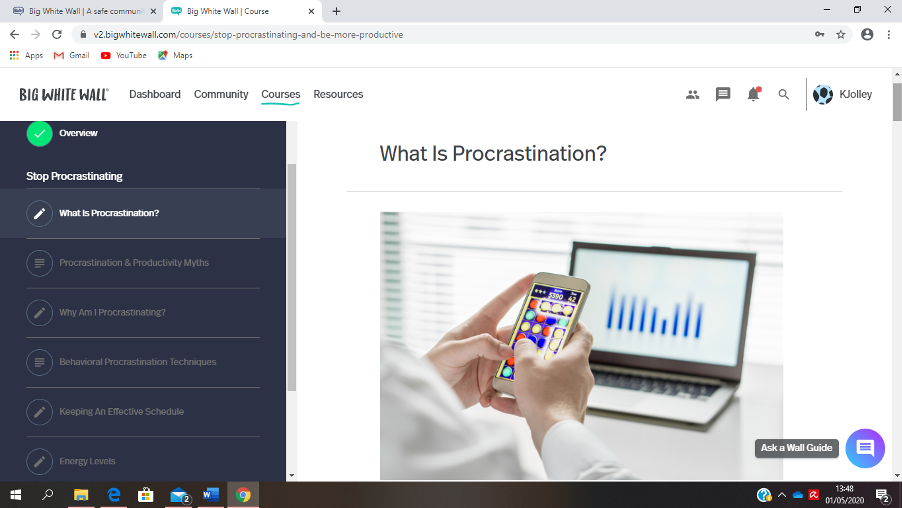 Do I have to have a mental health illness to use the Big White Wall?
No, you do not have to have a diagnosed mental health illness to use Big White Wall.
Do I have to pay for Big White Wall?
No. As a York St John Student, you get full use of the Big White Wall for free as the University have already paid for the service!
How do I access it?
To sign up for Big White Wall, you Just visit the Big White Wall website and register for free using your York St John email address. You can register here.
Recent Posts