YSJSU
Jenny's November Update
18th November 2019, 11:30am
Jenny's November Update
Happy Graduation Week! I hope everyone who has completed their qualifications has the most fab week celebrating their successes with their friends and family.

It's the middle of term and we're super busy here in the Students' Union, so I thought I'd post a bit of an update on what I've been up to over the past few weeks!
Hidden Course Costs Campaign

I put forward a motion at Executive Council concerning hidden course costs that you may not have been aware of before you arrived at University. I'm happy to announce that the motion was successfully passed and I'm getting to work right away!

On Monday 25 November, I'm hosting a big campaign day which I need your involvement with. I want to find out directly from students at York St John University about the course costs that impact you – especially the ones that you were not anticipating. I need student backing and involvement to ensure the University listens to me, so throughout the day there will be various ways to support my campaign. Whether you add your thoughts to a feedback box or attend the Student Education Zone, your involvement will make a difference!

Feedback boxes will be situated in De Grey, Holgate, the Students' Union and the library. I want your input on topics such as resources and materials, placements, university trips and travel and graduation. There will also be a survey live on the Students' Union website – please fill this in to help me obtain crucial information to pass on to the University!
Lastly, I've arranged for mirrors to be dotted about around the campus for you to take a pic in and join the movement! You can show your support on social media, using the hashtag #BeTransparent.
Campaign Events
1:30pm, Students' Union Coffee Lounge – I will be chairing a panel on hidden course costs featuring a number of University staff, students and the Vice President (Higher Education) of the National Union of Students, Claire Sosienski Smith. Join the Facebook event here.
4-6pm, Fountains 002 (FT/002) – I will be hosting a Student Education Zone surrounding hidden course costs. This will be my second Zone and will close the Hidden Course Cost Campaign with any additional feedback. This will be facilitated through discussion and also Mentimeter, so if you can't be there you can join in on giving feedback too! Join the Facebook event here.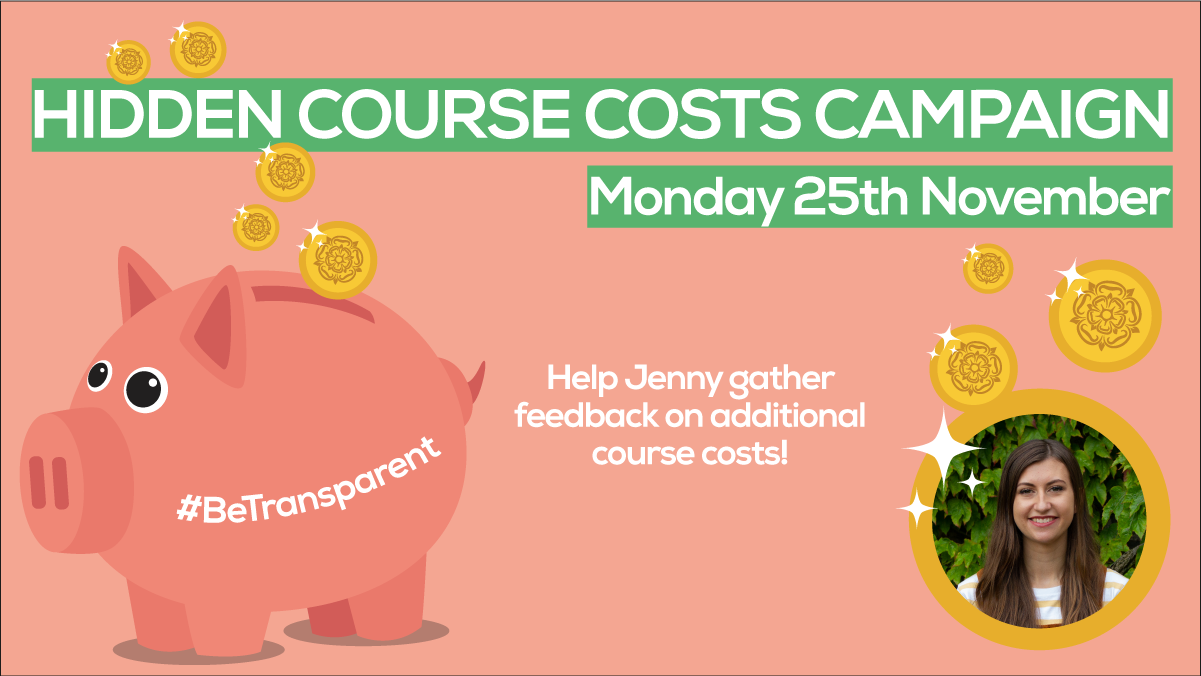 Memorial Service
I was asked by the Chaplain to be a part of the University's memorial service for Armistice Day. It was a lovely ceremony to participate in and there was a great turn out of sports and societies to honour club members who died in conflict.
Register to Vote
We relaunched the Register to Vote campaign after the General Election was announced. On Tuesday 12 November, the Students' Union team worked in Holgate to help students register to vote. It was great to see how many students were engaged and we were able to help register!
If you haven't yet registered to vote, you have until Monday 25 November to do so. Register to vote here.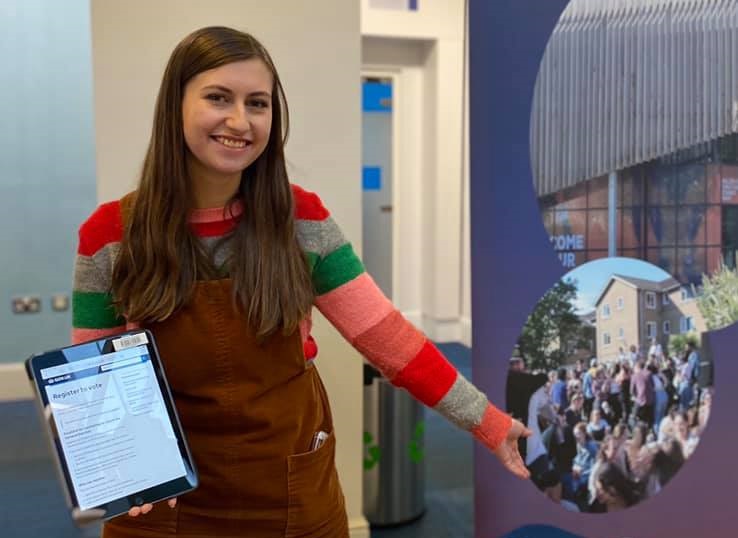 Executive Council
We had our first Executive Council meeting with 14 out of 16 of our officers attending which was fab. My motion that I submitted to executive council surrounding Hidden Course costs was passed which was really exciting, and I was really pleased with this result.
Student Education Zone
I hosted my first Student Education Zone on the Thursday 7 November and had 80 students attend! This was a great forum and I was really pleased with the feedback I received from students. As I mentioned earlier, the next Zone takes place on Monday 25 November at 4pm in Fountains 002. Please come along to support me in obtaining feedback around hidden course costs to pass onto the University!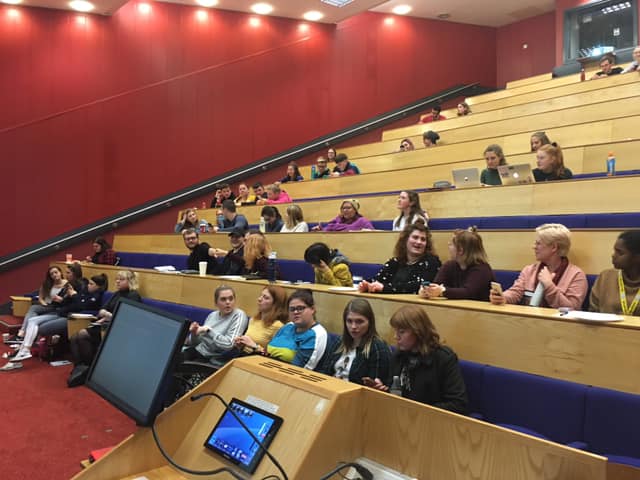 Trustee Board Meetings
Last week (11-15 November), was a week full of Trustee Board meetings to ensure the Students' Union is running smoothly. I attended People and Culture as well as Finance Audit and Risk.
Study Stress Focus Group
I hosted another one of my study stress focus groups, in which we did some mindfulness colouring and students had the opportunity to express academic wellbeing concerns. The session included Tim drawing a lovely elephant to add to the office décor – thanks Tim…
Upcoming Events
Next week Kirsten, Tim and I will be graduating! We are also lucky enough to be involved in officiating at other graduation ceremonies – I'll be bearing the mace and speaking at the ceremonies on Wednesday. We're really excited to see students graduate and celebrate their successes.
Recent Posts