The SU Building is now closed, however staff are still available via email, further details regarding the current situation can be found here:
Opening Times: SU 09:00 - 16:00 Bar Closed
York St John Quiz The Candidates
Published: 28th November 2019, 9:30am
Rachel Nesbitt | 28 November 2019
The lecture room was full of an excited, apprehensive buzz. Each viewer looked in anticipation at the row of political candidates in front of them, talking and whispering amongst themselves. At the table were; James Blanchard (Liberal Democrats), Andrew Dunn (Social Democratic Party), Tom Franklin (Green Party), Rachael Maskell (Labour and Co-operative Party), Andrew Snedden (Yorkshire Party), Nicholas Szkiler (Brexit Party) and Fabia Celestine Tate (Conservative and Unionist Party).
As with all hustings, keeping the candidates' speeches within a specific timeframe was a mission, but one in which Tim Holmes, President of the Students' Union, did a fantastic job of. He also made sure that candidates did not interrupt others when making his point.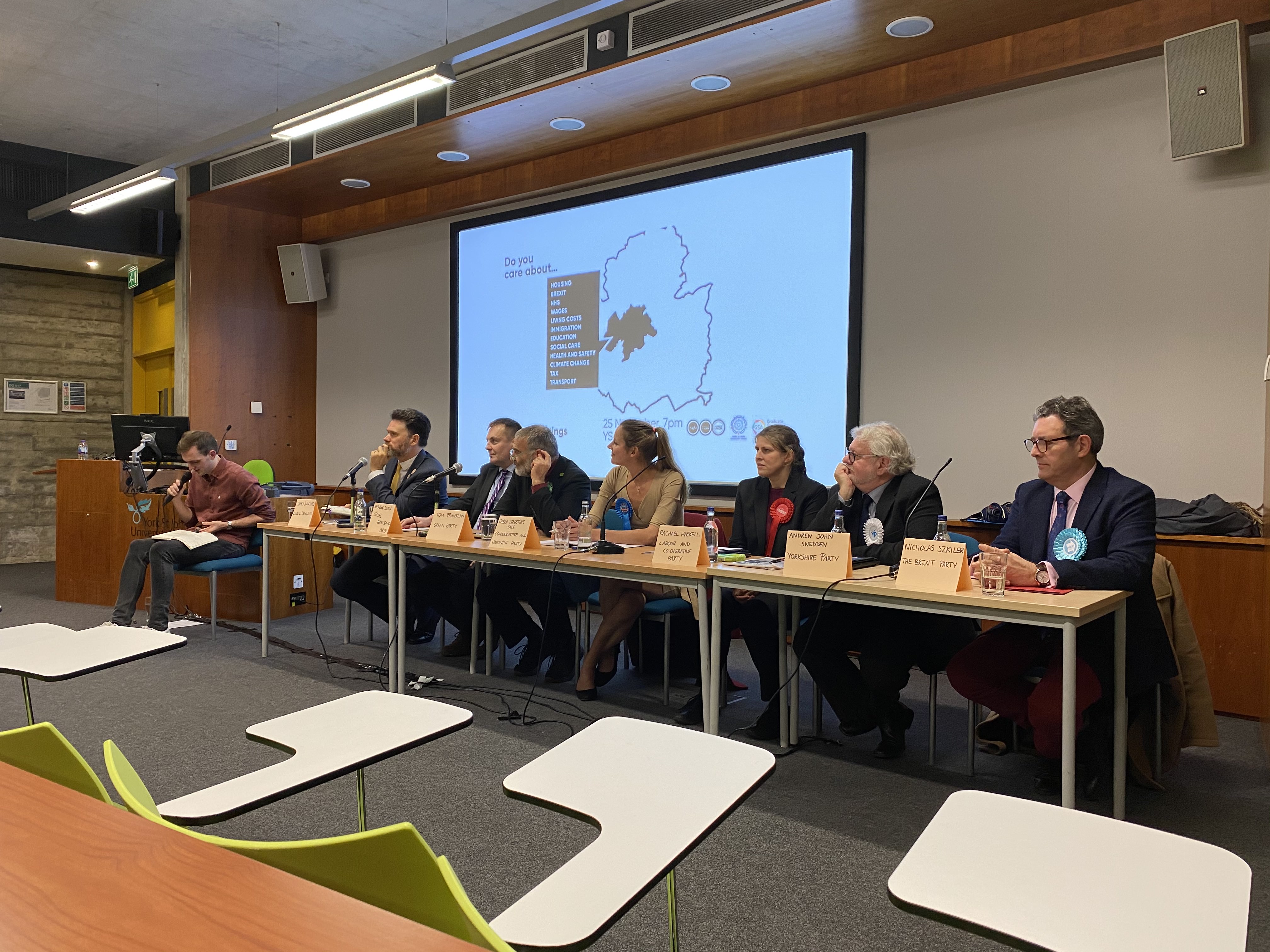 To start with, we had a one-minute introductions from each candidate, all of which gave a brief overview of their stances. Mr. Blanchard focused on the Remain vote and public services. Mr. Dunn focussed on the Social Democratic Party's 'New Declaration' pamphlet, exclaiming that they were socially conservative, which was brave considering he was in a room full of university students! Unsurprisingly, Mr. Franklin prioritised the climate crisis and re-iterated the importance of taking climate change seriously. Ms. Tate started off by saying we are all "pissed off" with the current state of affairs which no one could dispute.

Ms. Maskell, also focussed on the climate, as well as social injustice and inequality. She believes the future of our country is to remain in the EU. Mr. Snedden spoke of the "dysfunctional parliamentary system", saying that "democracy is broken". He described the Yorkshire Party as the "pragmatic party". Mr. Szkiler concentrated on the 17 million people who voted to leave the European Union, suggesting the vote is democracy.
The main topics that were discussed were: education, racism and anti-Semitism, Brexit and job creation. There was also a great question from our very own Politics Society at York St John, about civility in politics and how we can work together as different factions.

When discussing the future of education, the candidates skewed their answers for the university crowd, and some spoke about how they are teachers or lecturers. One question from a member of the audience was asked about other avenues of study, as not everyone wants to go to university, mentioning that Ms. Tate was the only candidate that spoke about apprenticeships and technical vocations.

Mr. Blanchard said that the Liberal Democrats wanted more educational support groups which Mr. Dunn firmly disagreed with. The Social Democratic Party candidate spoke about how the curriculum needed to be developed and that teaching practices need to change. Mr. Franklin spoke about how education needs to begin before school and that we must change the very nature of schooling. He also made the point that excessive exams were impacting mental health and argued for tuition fees and existing debt to be abolished.

In comparison, Ms. Tate supported a 5.3% increase in funding and re-iterated her earlier point about alternatives to higher education. Ms. Maskell passionately spoke of a holistic approach to unlock potential in the early years, abolishing SATS and supporting teachers. She also talked about Labour's plan to abolish tuition fees, as well as giving more support to disabled students.

A university lecturer, Mr. Sneddon told the audience that education is his "hobby horse" and discussed how disparity of student funding between London and Yorkshire. In London, schools on average receive £6,000 per student, whereas in Yorkshire that figure is £4,200.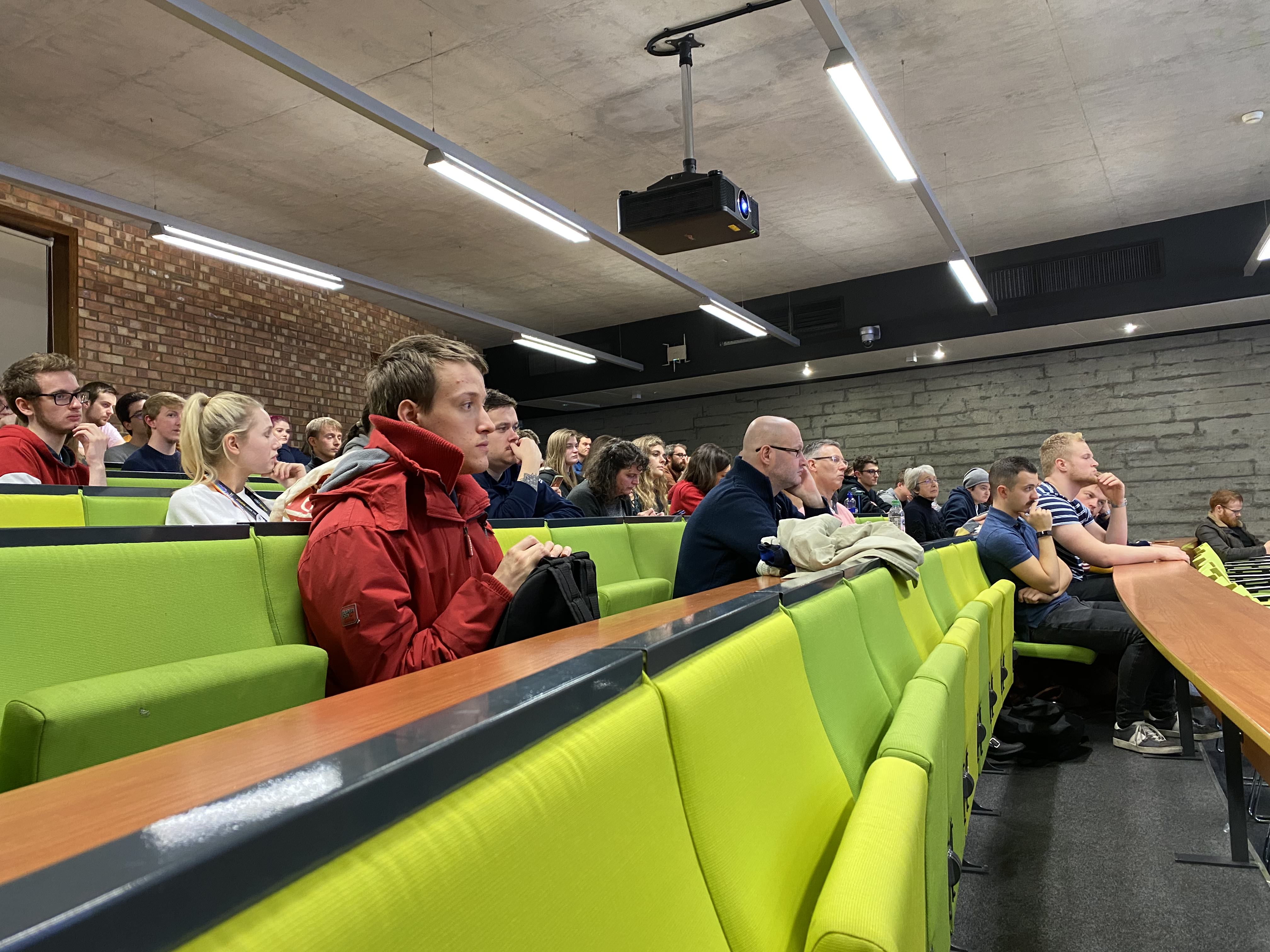 As the hustings turned to focus on Brexit, with the exception of Mr. Dunn and Mr. Szkiler, the candidates favoured either stopping or having a final say on Brexit. Ms. Maskell exclaimed, "I did everything I could to stop Brexit", making her stance very clear. However, Mr. Blanchard went further still, saying we must "stop Brexit" at all costs. He claimed that "Project Fear" was being deployed, joking that old people starting a revolution if they don't get their way is nonsense.

On the subject of racism, there was very little discussion about Islamophobia, but a significant focus on anti-Semitism. The only candidate to say that no party was perfect and that they all have some problems was Mr. Blanchard. However, Ms. Maskell made it clear that Labour are working with minority groups and that hate crime and homophobia has risen under the current government.

The candidate for the Yorkshire Party, Mr. Snedden, was very straightforward on the subject, stating that he doesn't understand the motivation for marginalising people. Continuing, he said that there is no place for hate, and we must "speak out against it."
As the hustings was coming to a close, the largest negative reaction from the audience was directed towards Mr. Dunn, who said that transgender people "decide" to be the opposite sex. When one woman in the audience shouted, "my body my choice" on the subject of abortion, he responded that women should "do what they want with a foetus, as it is their body."

The event was well managed and clearly important in terms of students getting their voices heard. Many of us wished there was more time for questions, as 17 people submitted theirs as well as the audience wanting to ask questions. Unfortunately, with the event already running for 2 hours, there was not time for more. Overall, it was a very agreeable evening, but when Mr. Franklin questioned the audience whether anyone changed their mind after the husting, only a few people raised their hands. It seems either the group were already very informed and knew what they were voting already!
Awards


Our Contacts
York St. John Students' Union
Lord Mayor's Walk
York, YO31 7EX