19th November 2019, 10:30am
Carling Made Local
Carling Made Local is a campaign which aims to improve the local community by funding community projects. With the help of the National Union of Students, Carling are introducing it to Students' Unions and want to give students and staff the opportunity to apply for funding to help them complete their community project!
In the case of the Students' Union the 'local community' applies not only to the generic local community, but also to student societies, sports clubs and campus.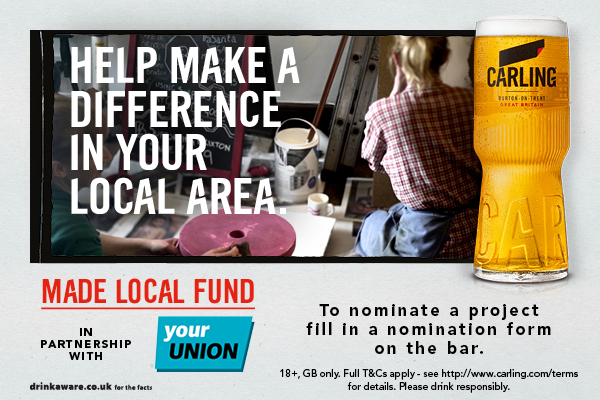 The Process
Individuals, societies or clubs need to complete a nomination form and submit them in one of the two boxes in the Students' Union – in the bar and at Info Point. Nomination forms can be collected from these locations too. Nominations are open now and will close on Archie's Day (Friday 13 December).
If you have any further questions regarding your nomination, please contact Brad Ford for assistance.
Following the close of nominations, Carling and the NUS will work with the Students' Union to decide on the top three projects. Once these projects have been chosen, a second voting box will be displayed in the bar. For every pint of Carling purchased, you'll also receive a token to vote for their favourite.
After voting closes, Carling will work with the project which received the most votes and provide them with the funding to complete their community project.
Recent Posts