YSJSU
Autumn Elections Candidates
20th October 2020, 10:58am
Autumn Elections Candidates
Voting opens in our Autumn election on Tuesday 27 October, which means there isn't long for you to decide who you want to represent you! There are 4 roles which are being contested, you can see who's standing for them below.
Women's Officer
Jess Thompson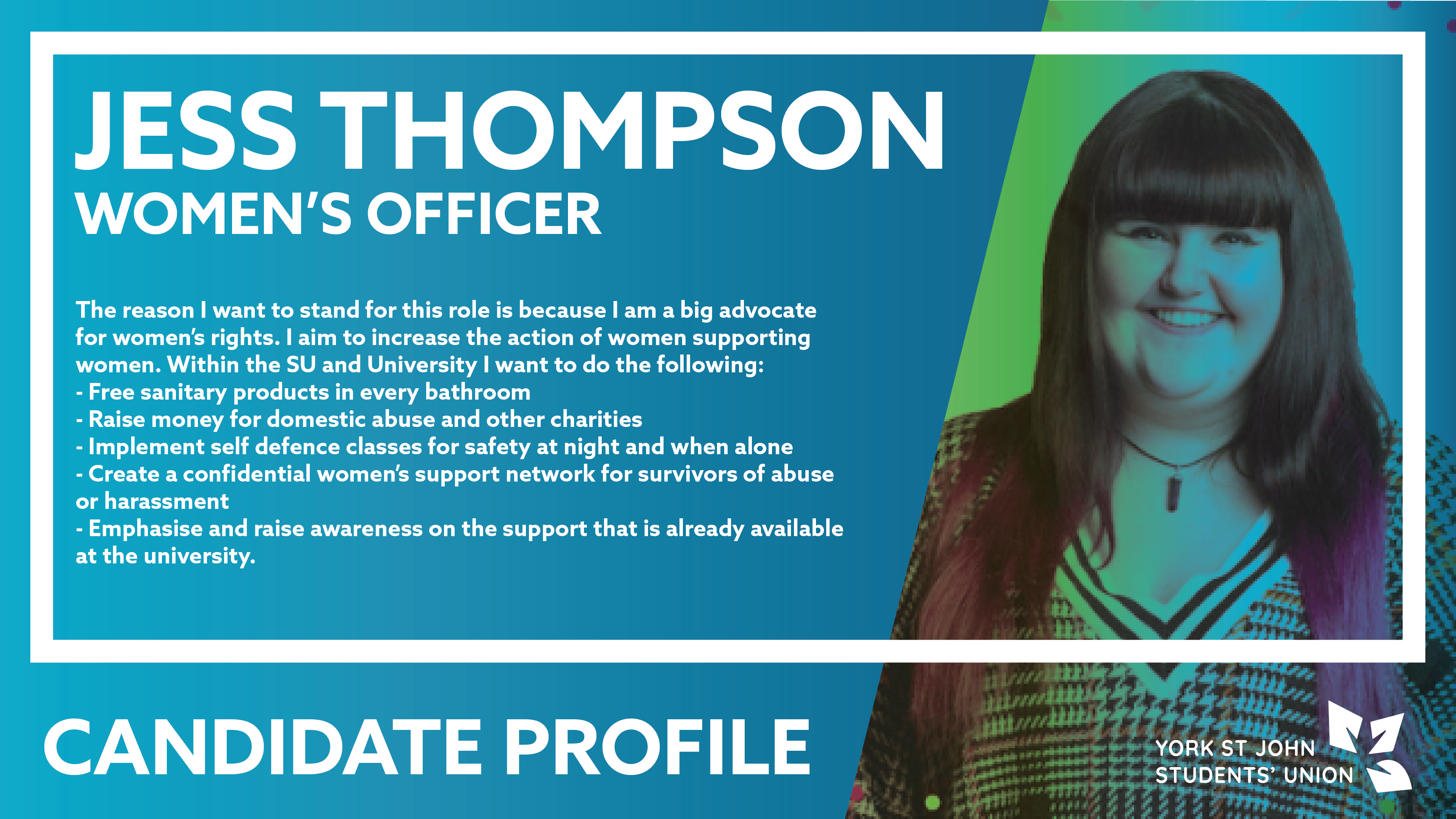 The reason I want to stand for this role is because I am a big advocate for women's rights. I aim to increase the action of women supporting women. Within the SU and University I want to do the following:
Free sanitary products in every bathroom

Raise money for domestic abuse and other charities

Implement self defence classes for safety at night and when alone

Create a confidential women's support network for survivors of abuse or harassment

Emphasise and raise awareness on the support that is already available at the university.
London Officer
Sau Wu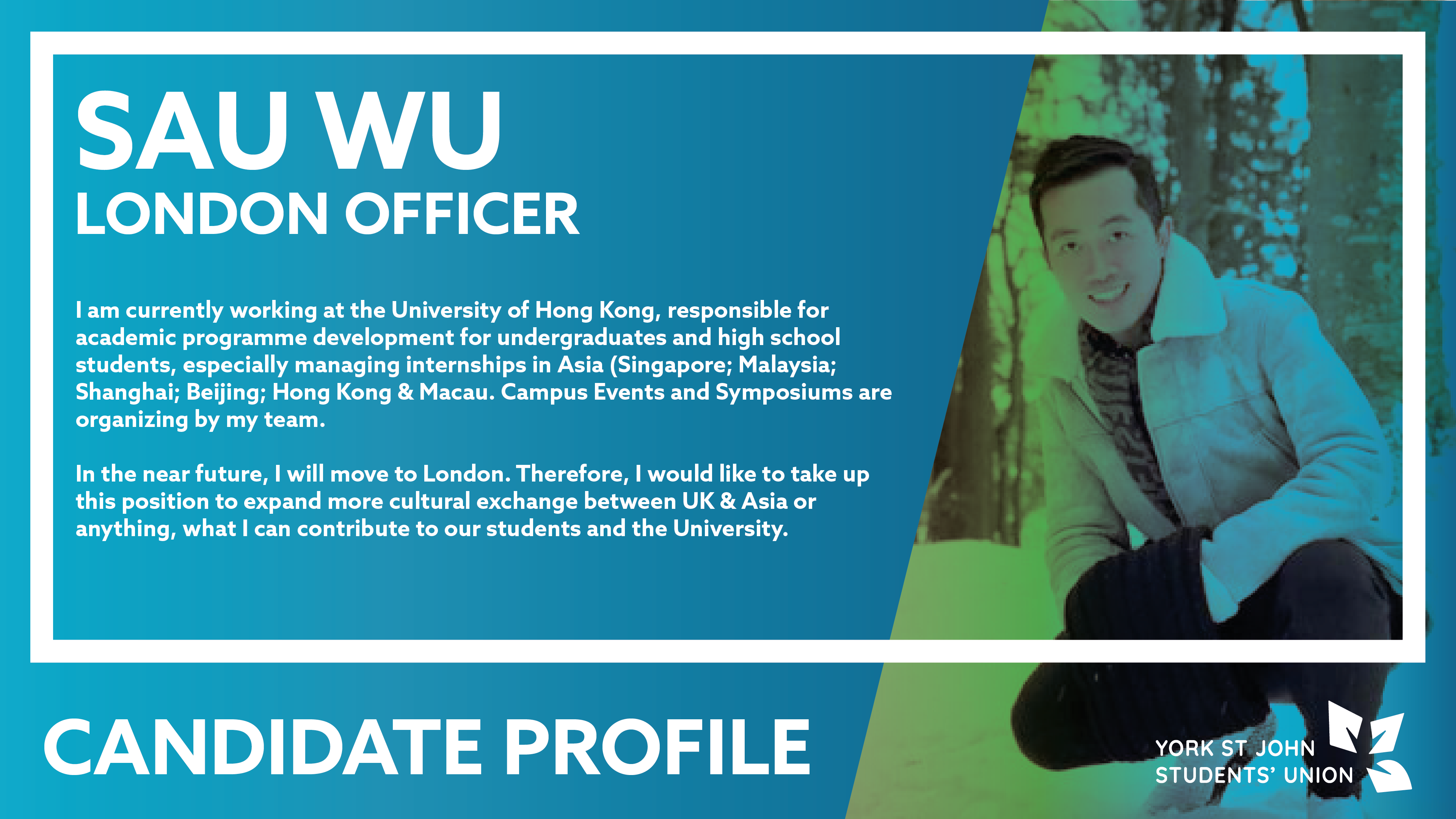 I currently working at the University of Hong Kong, responsible for academic programme development for undergraduates and high school students, especially managing internships in Asia (Singapore; Malaysia; Shanghai; Beijing; Hong Kong & Macau. Campus Events and Symposiums are organizing by my team.
In the near future, I will move to London. Therefore, I would like to take up this position to expand more cultural exchange between UK & Asia or anything, what I can contribute to our students and the University.
Chair of Student Council
Sanah Akhtar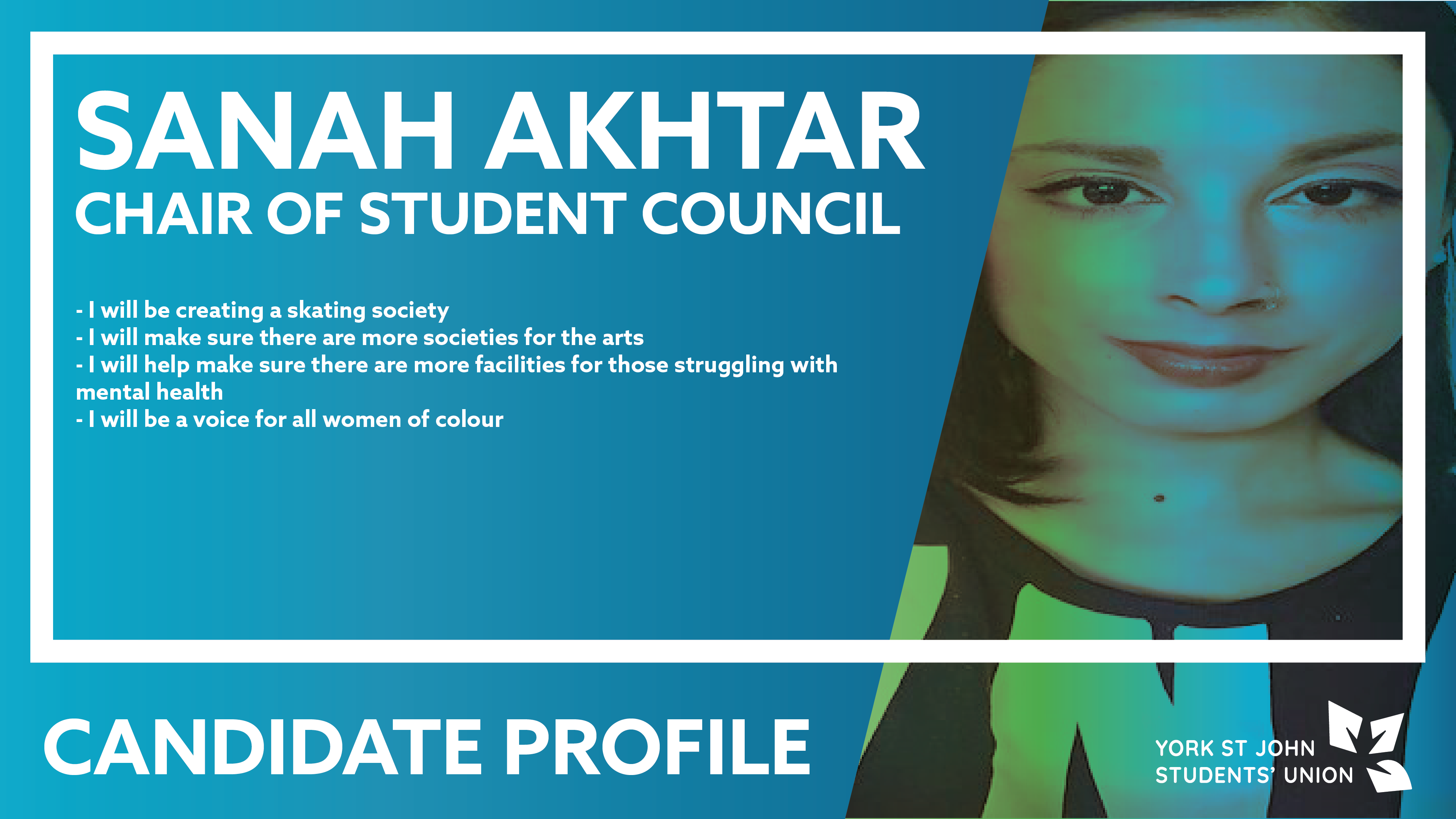 I will be creating a skating society

I will make sure there are more societies for the arts

I will help make sure there are more facilities for those struggling with mental health

I will be a voice for all women of colour
Siya Varma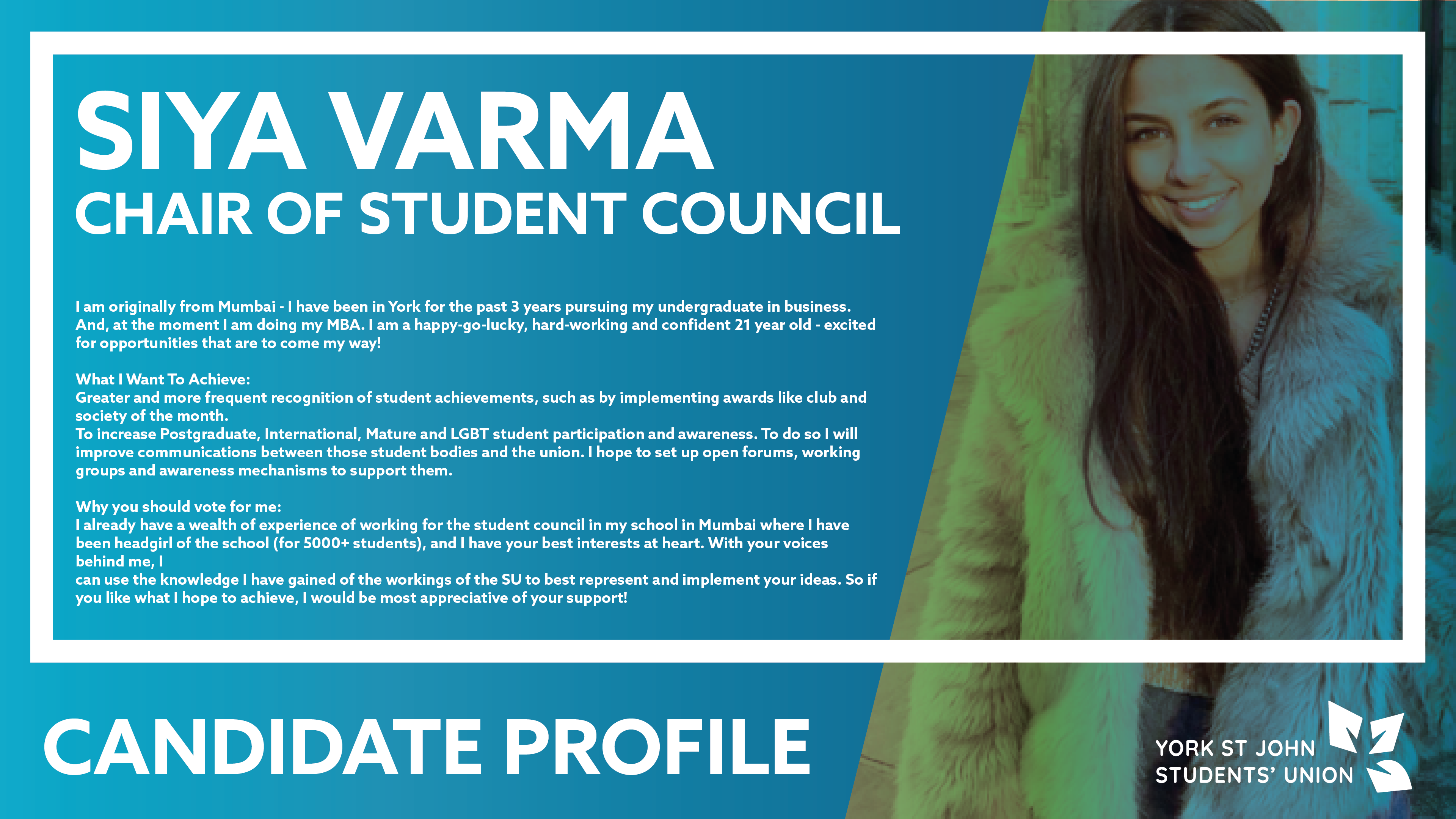 I am Siya Varma. I am originally from Mumbai - I have been in York for the past 3 years pursuing my undergraduate in business. And, at the moment I am doing my MBA. I am a happy-go-lucky, hard-working and confident 21 year old - excited for opportunities that are to come my way!
What I Want To Achieve:
Greater and more frequent recognition of student achievements, such as by implementing awards like club/society of the month.
To increase Postgraduate, International, Mature and LGBT student participation and awareness. To do so I will improve communications between those student bodies and the union. I hope to set up open forums, working groups and awareness mechanisms to support them.
Why you should vote for me:
I already have a wealth of experience of working for the student council in my school in Mumbai where I have been headgirl of the school (for 5000+ students), and I have your best interests at heart. With your voices behind me, I
can use the knowledge I have gained of the workings of the SU to best represent and implement your ideas. So if you like what I hope to achieve, I would be most appreciative of your support!
Student Councillor (Hobbies and Interests)
Callum Campbell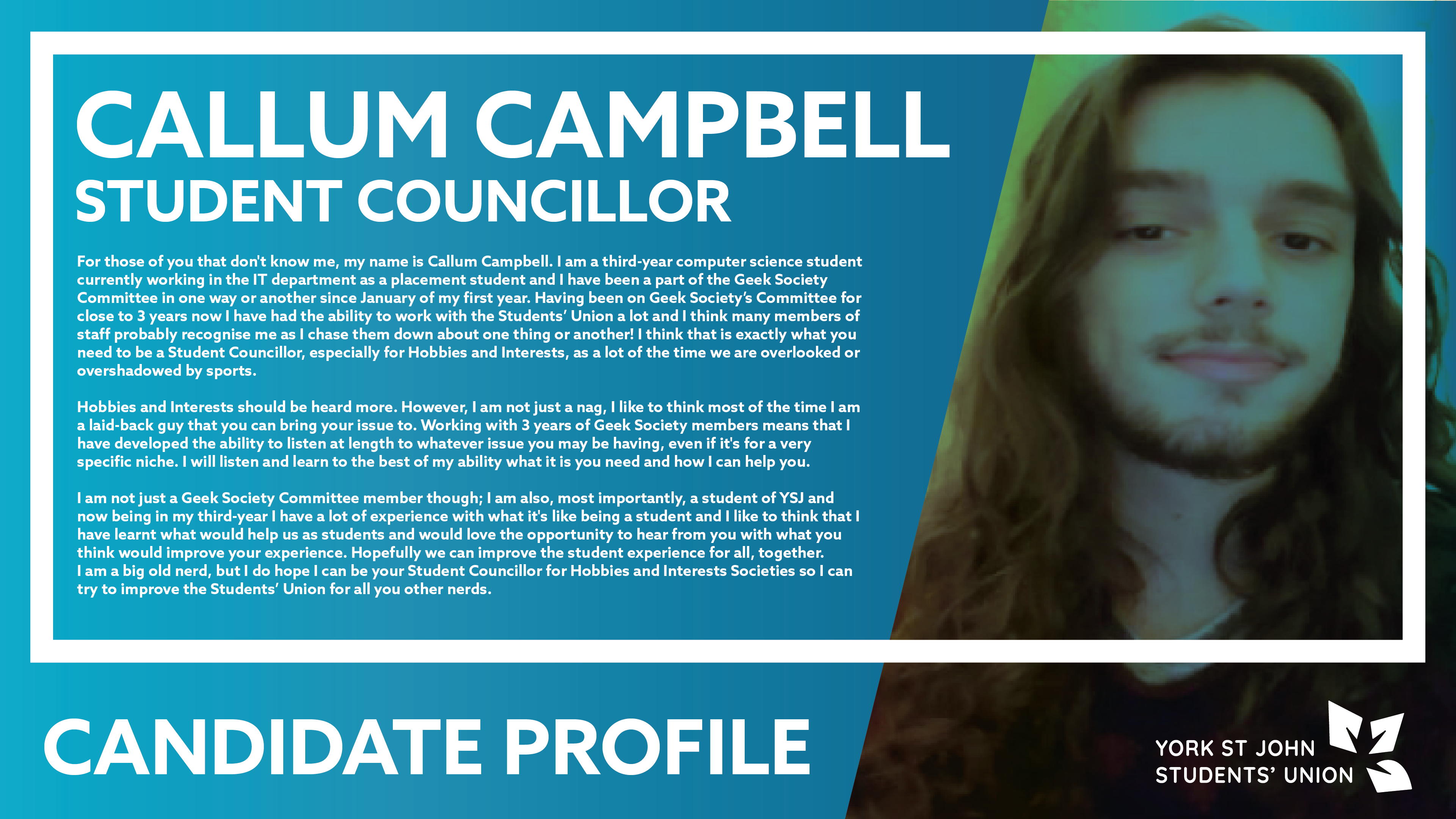 For those of you that don't know me, my name is Callum Campbell. I am a third-year computer science student currently working in the IT department as a placement student and I have been a part of the Geek Society Committee in one way or another since January of my first year. Having been on Geek Society's Committee for close to 3 years now I have had the ability to work with the Students' Union a lot and I think many members of staff probably recognise me as I chase them down about one thing or another! I think that is exactly what you need to be a Student Councillor, especially for Hobbies and Interests, as a lot of the time we are overlooked or overshadowed by sports.
Hobbies and Interests should be heard more. However, I am not just a nag, I like to think most of the time I am a laid-back guy that you can bring your issue to. Working with 3 years of Geek Society members means that I have developed the ability to listen at length to whatever issue you may be having, even if it's for a very specific niche. I will listen and learn to the best of my ability what it is you need and how I can help you.
I am not just a Geek Society Committee member though; I am also, most importantly, a student of YSJ and now being in my third-year I have a lot of experience with what it's like being a student and I like to think that I have learnt what would help us as students and would love the opportunity to hear from you with what you think would improve your experience. Hopefully we can improve the student experience for all, together. I am a big old nerd, but I do hope I can be your Student Councillor for Hobbies and Interests Societies so I can try to improve the Students' Union for all you other nerds.
Student Councillor (Culture and Faith)
Charlie Mills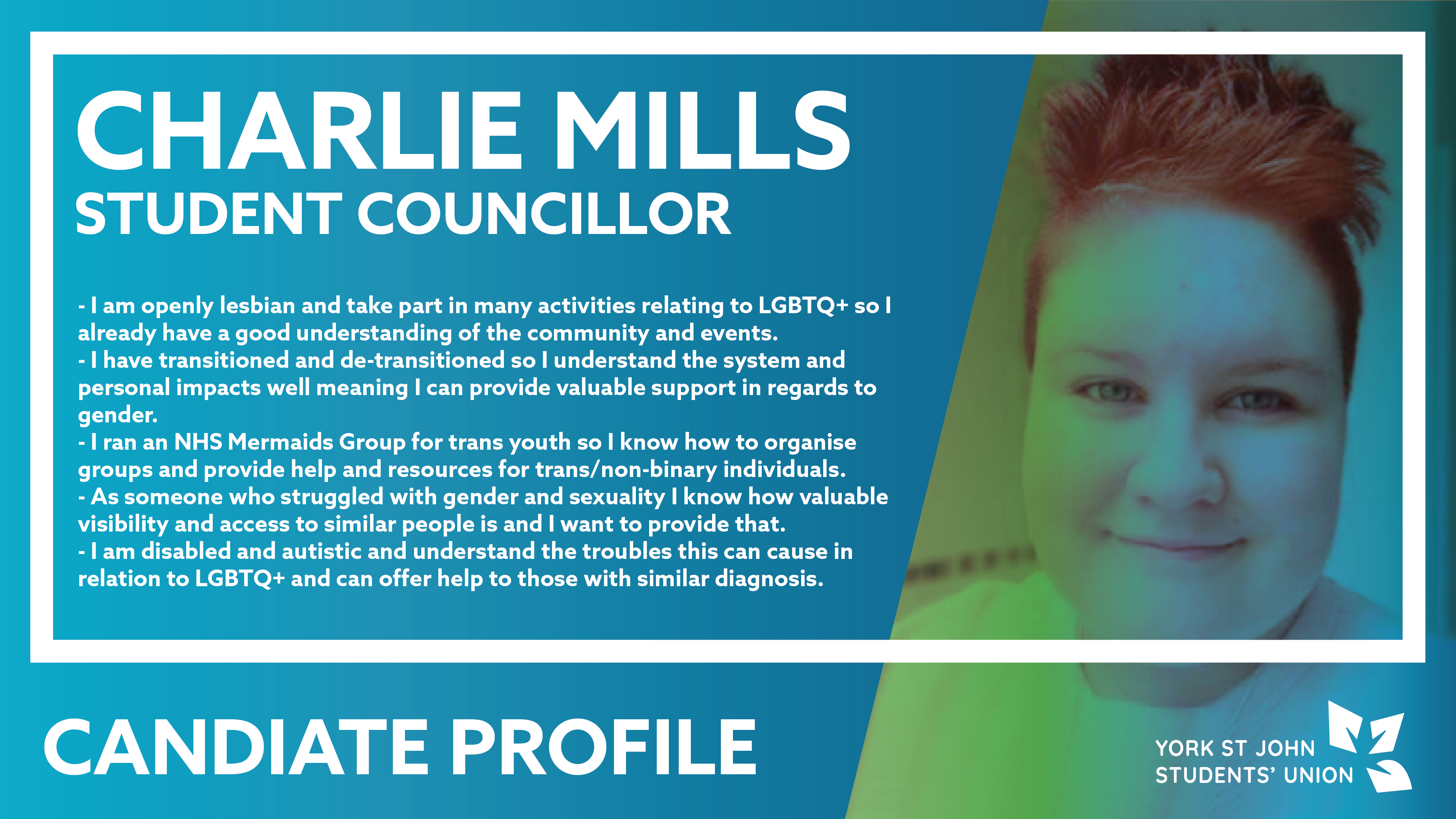 I am openly lesbian and take part in many activities relating to LGBTQ+ so I already have a good understanding of the community and events.

I have transitioned and de-transitioned so I understand the system and personal impacts well meaning I can provide valuable support in regards to gender.

I ran an NHS Mermaids Group for trans youth so I know how to organise groups and provide help and resources for trans/non-binary individuals.

As someone who struggled with gender and sexuality I know how valuable visibility and access to similar people is and I want to provide that.

I am disabled and autistic and understand the troubles this can cause in relation to LGBTQ+ and can offer help to those with similar diagnosis.
Recent Posts