P-SU Blog | Sporting Achievement at YSJ
The sporting community at YSJ year by year has proven itself to be one of the largest and most engaged groups of individuals at YSJSU. A wide range of students join sport clubs to partake in recreational activities for fitness and enjoyment, whilst we also find a large majority of our students engage with sport to compete in BUCS, some students at an extremely high level. With our Annual Sports Dinner and Sport and Society Zones, we can find time in the year to commend our teams and their sporting spirit (and most of the time, successes) but very rarely do we acknowledge the brilliance of sporting achievement in individual athletes at YSJ.
Over the past couple of weeks I've been chatting to our incredible YSJ athletes about their experiences throughout their life but also what led them to York St. John.
One of the first of our athletes that we are highlighting today is none other than our new Netball Captain Olivia Bowers; she is a current 3rd year Religion, Philosophy and Ethics student, and has been a member of YSJ Netball's 1st team since the start of her University life. Olivia went on to tell me about her experiences with netball and what got her into the sport:
"I don't exactly remember when I first started playing netball, but I started playing competitively when I was 10. Simply by going to local netball clubs and slowly progressing my way up from there. During high school I was selected to play for my county, and at college I was one of 12 girls to receive a place in the Netball academy they have on offer. It was during my time at college when I really realised my love for netball and that I wanted to pursue it further. At college we travelled up and down the country to lots of tournaments and highly recognised events, it was at one of these where I was asked to be part of the National Netball Schools Team."
Through Olivia's commitment to her sport, she soon was invited down to Nottingham to take part in the England University Netball trials, and following the trials she was quickly informed of her success, joining an elite long squad of 15 girls. Her commitment to YSJ Netball is immense, and whilst talking to her about her love for the sport and her club she stated how she "would 100% suggest to anyone coming to university or even at university to go and join a sport club. It doesn't matter whether you are the next Olympian or simply just want to play for fun. Joining a sport club at YSJ offers you another social aspect to university life; it allows you to meet a new group of people and keeps you and your health in a good mental state." We honestly couldn't have put it any better.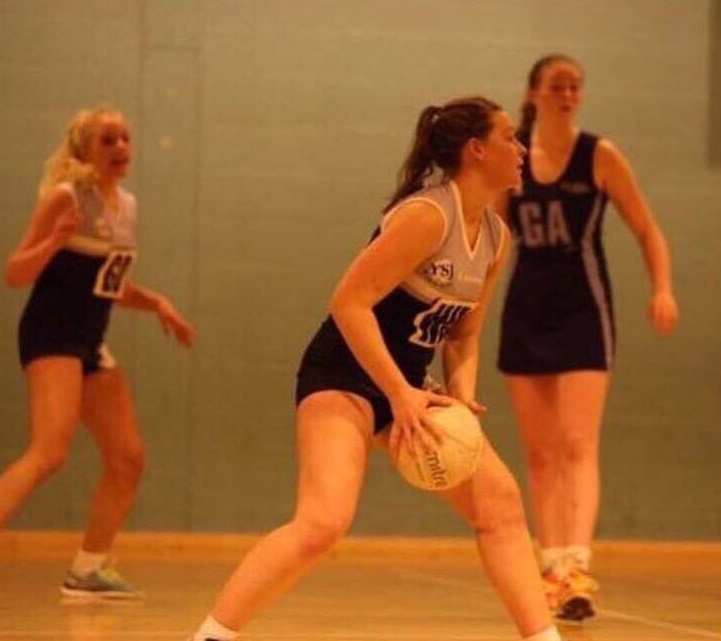 Our next athlete is no other than Becky Glen, a previous all rounded athlete, spending her time at YSJ competing for the unstoppable Women's Hockey Team. Although Becky played various sports to a high level over her time at YSJ and beforehand, Becky followed a certain sport that has led her onto a great level of success:
"I'd like to think I can put my hands to most sports but I'd say cricket is my main sport. I started playing when I was around 5/6 at school with the boys. I play for Durham for county cricket but I'm currently in Dundee playing for Scotland in the Celtic Cup against Ireland. I started my county career at Yorkshire and played alongside some unbelievable players. Watching those players act and the skills they had just really made me want to do well and succeed and be the best I can be.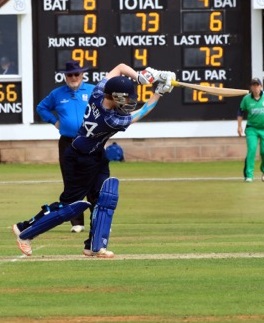 Becky goes on to state how her "highlight is probably a bit cheesy but for me it's just every time I get to go out and play" – it's clear from Becky and the rest of our athletes highlighted today that simply joining a sport can really be enough; from someone just starting, to the likes of Becky who are now representing their country internationally, the enjoyment of the game is always the most important thing.
"I am a massive advocate for the sports clubs (and societies) at YSJ. The friends I made during my time at YSJ were mainly made on the hockey pitch or in connection to things that happened as a result of being involved with the club. For anyone who is questioning whether joining a club or society is for them, I'd say DO IT. You'll make friends for life; learn things about yourself you didn't know and meet people you wouldn't necessarily meet. You've got nothing to lose and everything to gain."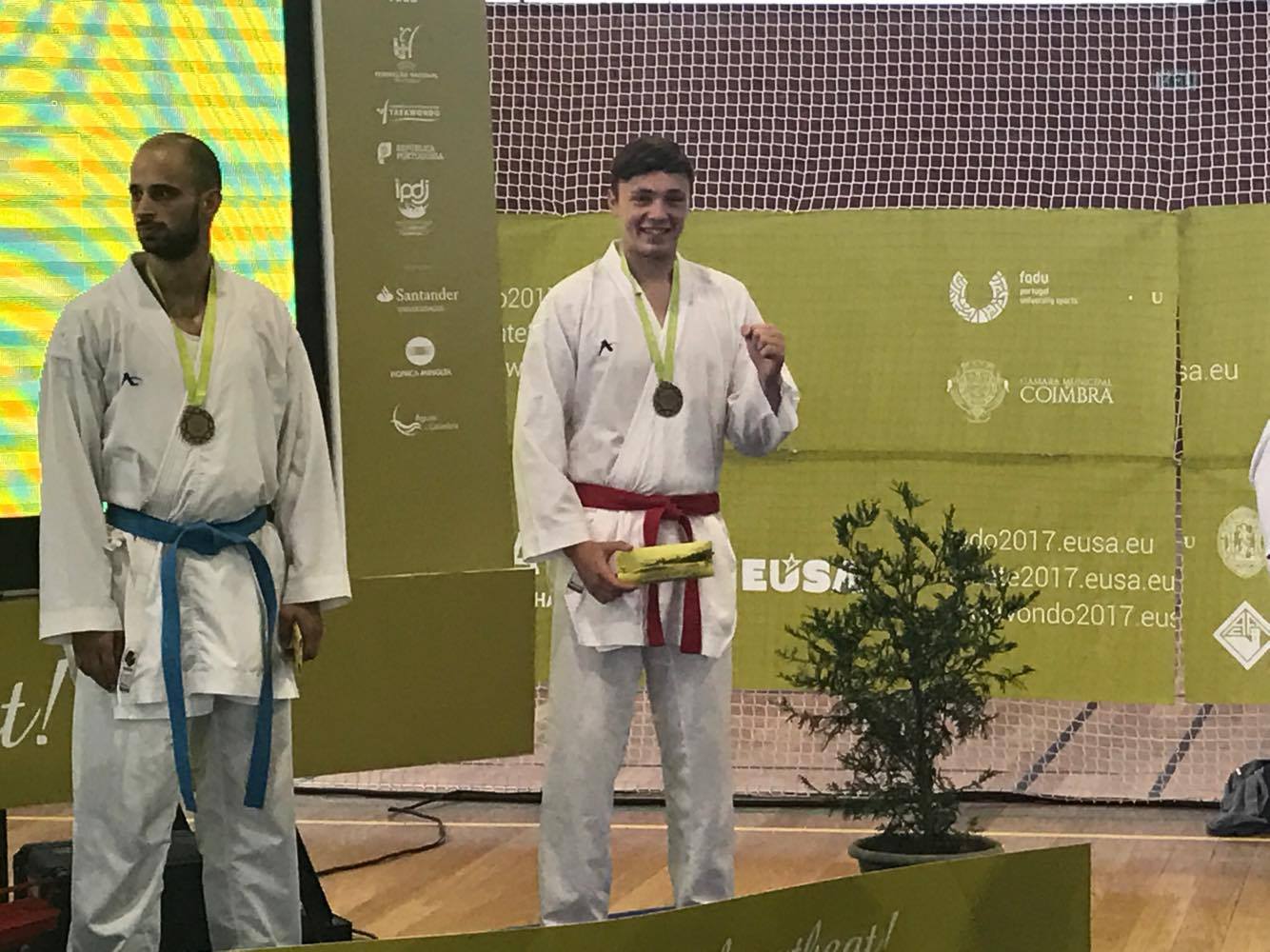 "Hi my name is Vinny Dawson and I currently compete for England and Team GB for Karate. I started karate at the age of 4 and started competing at around the age of 9 picking up multiple English, British and international titles along my career. I currently hold around 30 medals from national and International tournaments."
Vinny's sporting career has been a lifelong list of accomplishments, but most recently he managed to secure himself a well-deserved Bronze Medal at the EUSA European Championships in Portugal, representing YSJ in full power. He goes on to say, "to achieve a bronze medal I couldn't have been happier. This is the main reason I would stress for anyone to join a sports club or team. Although my main sport is an individual one and relies heavily on my own efforts, as part of the university football team I get to focus more on a team effort and put my skills to the test in a friendly yet competitive environment, with a little less pressure than international competition."
"Sports participation is the best thing anyone can do". Sporting excellence is a phenomenal thing for us at YSJSU to celebrate; our students are at the height of GB talent, but like Vinny rightly has said, participation in any form of sport is just as beneficial.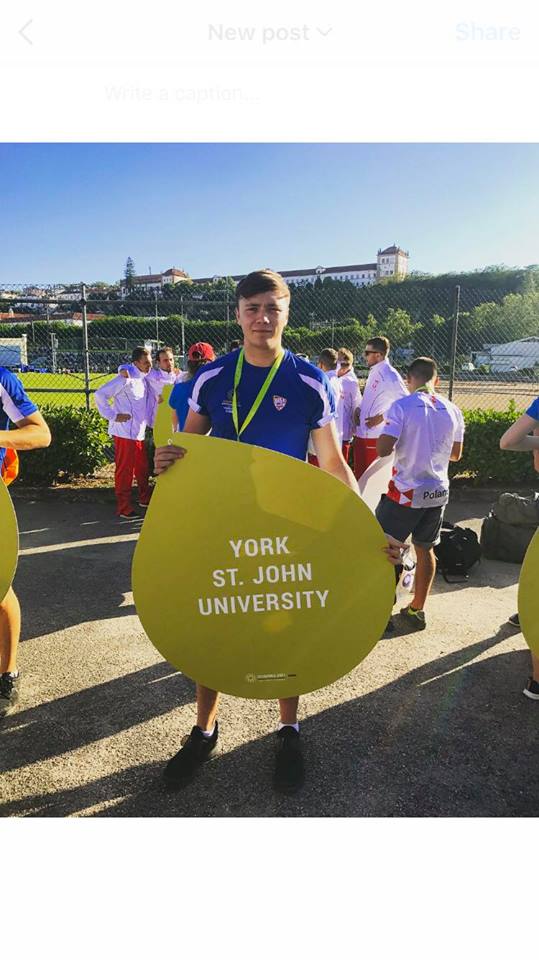 Next up is our power house, Rianna Masson; I'll let her do the talking for a bit:
"My main sport is Rugby Union, Position: Second/Back Row. I started playing Rugby when I start Bishop Burton College in 2015 at the age of 16. My rugby knowledge developed as I went into my second year at College when we had England Women's Scrum Half, La Toya Mason, as our coach and I was selected for the Yorkshire U18s Girls squad. I started YSJ in September 2016 where I joined the Women's Rugby Union Team, Women's Hockey and Snow Sports. Following this, and my commitment to the various sports I had joined, YSJ made a Sports Scholarship available which I applied for and was overwhelmed to receive the award! The money that I was rewarded went towards my train journeys to Darlington and new Rugby Playing boots as well as my journey to Edinburgh when I was selected to represent England in the Home Nations of the English University Rugby 7s Squad.
Rianna has gone on to be selected for the U20's England Squad, and hopes it will be a fantastic stepping stone, leading her onto the England Women Senior Team.
"I would 100% suggest joining a club at YSJ! Everyone is just so friendly and welcoming, they make you feel like you've been there for years, not just day one! Not only do you get the playing side to a club, but there is also all the social events which are hilarious and you will always have a good time whatever you're doing!"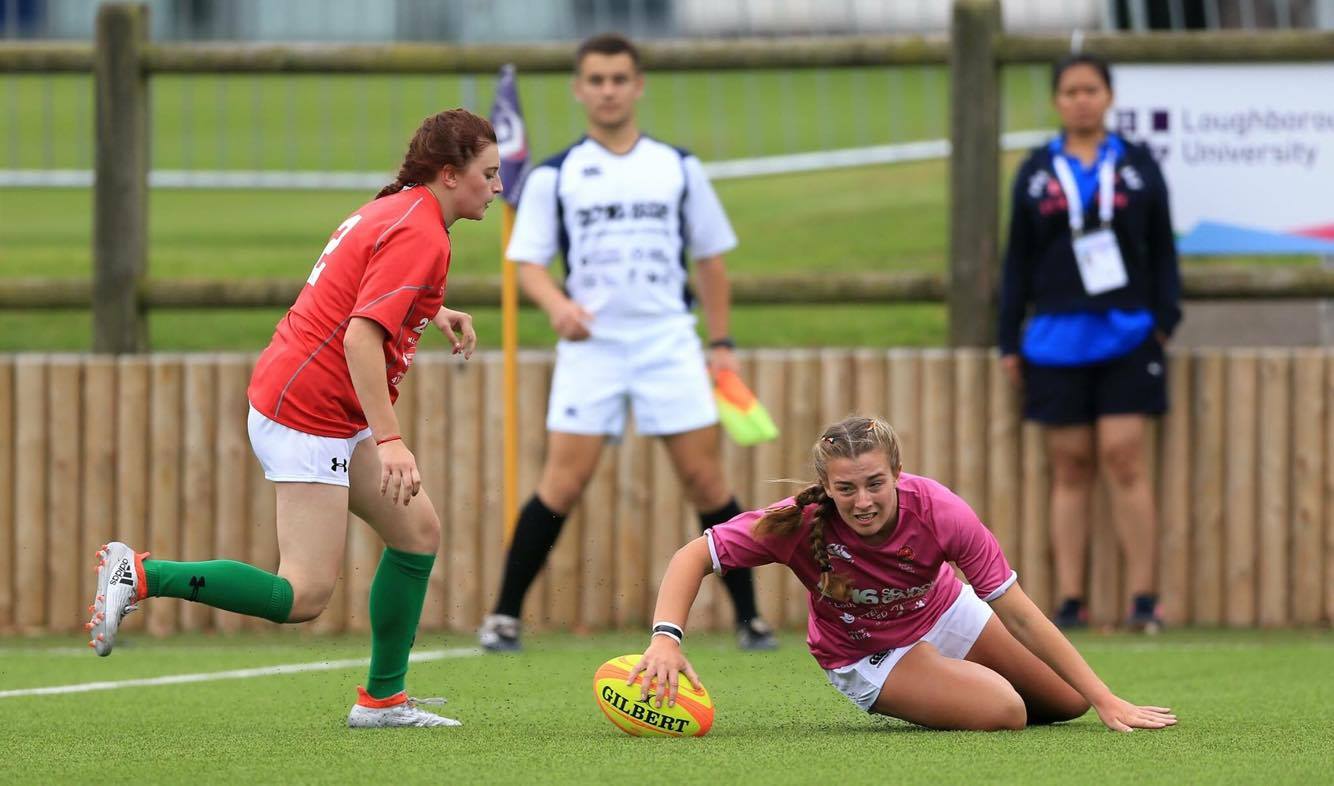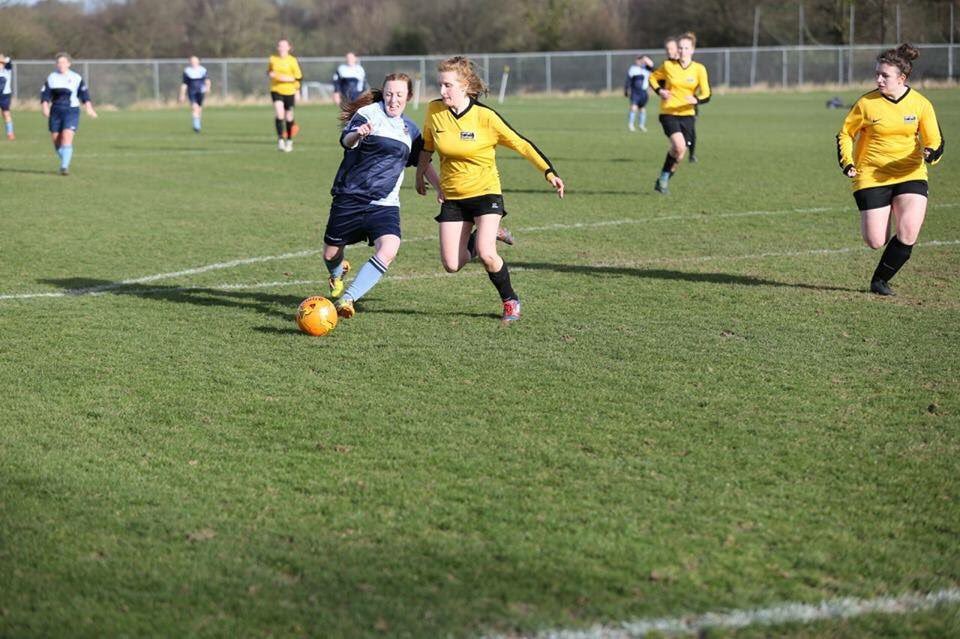 Laura Porritt is a recent graduate from YSJ, and somewhat of a star in the Ladies' Football Club. Most know her as Porritt and having only recently left us, she has gone on to achieve great success already. Laura has recently been signed for by Leeds United, and will be playing for them in near and distant future. She goes on to state "I'm fortunate for this opportunity and I'm sure it's going to be a phenomenal season with the white army. With the men's team now backing the female team, the setup is unbelievable. With huge amounts of background staff to the use of Thorpe Arch and swaggy kit!" We're sure you look awesome in any colour Porritt.

"Over my three years of YSJ Football I would say my biggest achievement is winning the Northern 3b BUCS league! We had a 9 league game winning streak, only losing our last game after already being crowned champions! Not only was it a huge achievement for the club, personally it was a huge achievement for myself to score in every league and cup fixture over the season."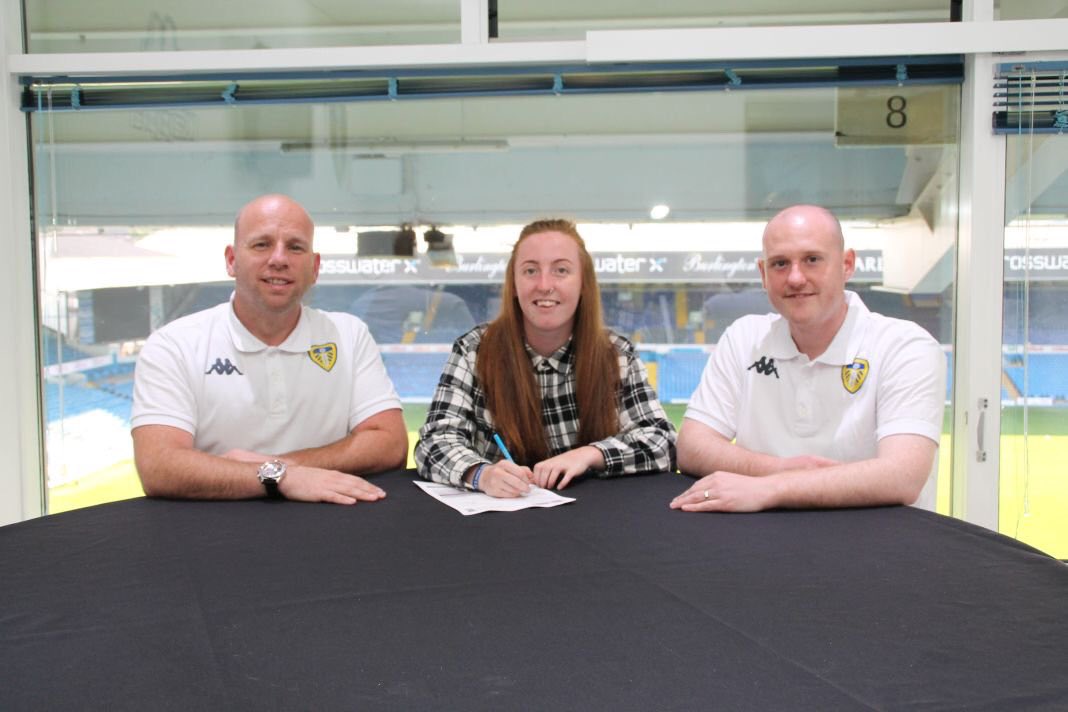 Finally we have Andy Smith, also a recent graduate of YSJ, and an extreme competitor in the athletics world. Andy has been massively influenced by the likes of Seb Coe and Steve Ovett, GB athletes before him, going on to win Olympic titles. He told me how he "started taking it seriously at the age of 17 and since then I have won a number of Yorkshire titles and numerous medals at the Northern Championships. I have also won two national medals both coming in the 800m, one at BUCS outdoors and one at the England Championships. As an Under 23 I am ranked top 20 in the country based on my 800m time."
Andy recently competed at the BUCS Nationals, stating that "this year has been my breakthrough. With one of my biggest sporting achievements winning a BUCS medal in the 800m with a PB of 1:49 (which happened was my first national medal and has recently been followed by a silver at the senior England Championships." Andy has had tremendous support from YSJSU over his time at University, and states it kept him motivated to develop as an athlete.
YSJ have tonnes of fantastic athletes joining us each year, some students going on to achieve national and international titles, some students going on to support the new generation, but one thing that is really beneficial from speaking to our YSJ athletes is the positivity they have for the sporting community at YSJ. Whether you're a beginner, or a GB athlete, we at YSJSU are here to support your development, and most importantly your enjoyment. If you're starting YSJ this September or coming back to us, have a look at our sport teams and see how fantastic they are. You never know, you might win a medal in a few years.
Awards


Our Contacts
York St. John Students' Union,
Lord Mayor's Walk,
York, YO31 7EX