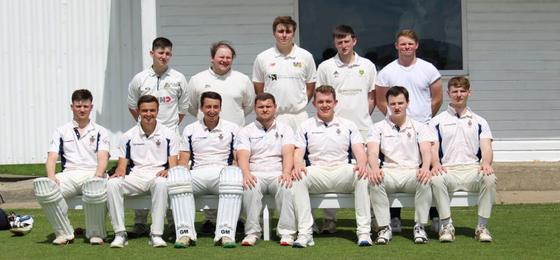 YSJSU
Old Johns Cricket Then and Now
Old Johns Cricket Then and Now
Covid-19 has prevented a lot of things from happening. But, it didn't stop this Old Johns match between the 1984 Cricket captain Pat, and the current Cricket captain Ed, alongside his vice captain Connor. We weren't able to host a physical Old Johns this year, but in a lively interview, Pat, Ed and Connor discussed their experiences of playing cricket and how much it has and hasn't changed.
The Teams
Pat attended St John's College from 1981 to 1985 and played cricket and rugby union. He was captain of the cricket team in 1984 and helped to organise an Old Johns team whilst he was Vice captain. Pat was a capable batsman and later played on the Old Johns team himself from 2012 to 2016. It seems that York St John's cricket team is almost a family legacy, as Pat's son also played cricket when he attended York St John from 2014 to 2017.
Ed is in his final year of his Events and Hospitality degree. He was appointed captain last year and unlike Pat, is a bowler. Connor is a good all-rounder and is in his second year of his law degree. In his words, he can do everything Ed can!
Home and Away
The match started with a quick discussion of what home fixtures were like pre-covid. Whilst Pat's team used to play all their home fixtures at the Hull Road sports ground, the current team are still looking for a permanent home ground but have previously played at Driffield cricket club. This academic year, due to Covid-19, there's only one cricket team but like Pat's time at YSJ, there are usually two teams with the occasional woman joining too. In Pat's team there was only one woman who played in the second team, despite playing for Yorkshire Ladies. Nowadays, there are a few more women, with an indoor women's cricket team formed in 2018.
Whilst the current team can easily practise indoors in Foss Sports Hall with space for two nets, when Pat was a student they had to travel to Pocklington to use indoor nets. As Pat put it: 'indoor cricket didn't exist at all in the early 80's'. Nevertheless, Ed and Connor were keen to describe the benefits and drawbacks of indoor cricket as being more intense, more competitive and the opposite of test cricket, which they admittedly prefer. As Ed said, there's 'nowhere to hide inside' and runs soon add up, leading to very close games. Unfortunately, due to Covid-19, the current team were only able to play indoor games last season before sporting events had to stop due to government restrictions.
But there were more similarities between the two teams for away games. Both teams confessed to being very social and that mini-buses were the preferred mode of transport for away games, as was the necessity of shirts and ties. But that was where the similarities ended. Pat's team hired their own mini-buses, travelling as far as Crew College to play their away games before driving home whilst the current team keep to a strict schedule. Unlike Ed's team, by hiring and driving their own bus, they were able to designate a driver and enjoy post-match drinks with their opposition before returning home whenever they liked. Pat remembers a particular night of fun drinking with the opposition whilst watching and England vs Brazil football game. But Pat's away games weren't all fun and games. He recalled one match against Chester College as part of the British College cup where there was barely a wicket, no site screens, and the opening batsman cut his face open during the semi-final because no-one wore helmets back then. The next day Pat requested that the principle, Gordon McGregor, write a letter of complaint to British Colleges Cricket about the poor standard of the away venue.
A Social Sport
Some things never change, and just like Pat's time with us, the current Cricket team love a good social. Whilst cricket is very much a summer sport, both teams focused on training and club socials during the colder months, enjoying nights out and club traditions. When Pat was a student, socials included wearing club colours and a 'shocker shirt' with forfeits completed if members refused to get into the spirit of things. Like today, Pat's team also did socials with other sports teams, including rugby union. Nowadays socials are just as fun, with fancy dress themes and annual socials, including one where all first years go out in their full cricket whites! As Connor put it, a big part of the club ethos is to enjoy themselves, both on and off the wicket. Pat's fond remembrances of socials and post-match drinks suggests his team was very much the same.
T20 – quick fire questions
It wouldn't be a good interview without some quick fire questions. When asked who the best England player was during their student days, Pat was quick to respond with Geoffrey Boycott, whilst Ed and Connor both replied Joe Root. There was less consensus from the current team as to their perfect cricket tea. Whilst Ed opted for jelly babies and bread rolls, neither of which he'd have if he was bowling during the second innings due to their high sugar content, Connor's perfect tea would be far more luxurious, with sandwiches, pork pies, and a slice of cake to finish. It seems in cricket teas, not much has changed. Pat's perfect cricket tea also contains cheese sandwiches and a slice of cake, but again not if he was set to bat during the second innings, similar to Ed's own rule.
But there was something that they did all agree on; that they'd rather be umpire than keep score! We'll have to keep all that in mind for the next Old Johns, and make sure there is plenty of cake and jelly babies to hand too!
Old Johns is traditionally held on the first weekend of March. It's never too early to start planning your teams, so stay connected with all things alumni by following their accounts on Facebook, Twitter and Instagram for all the latest news.
Recent Posts