The SU Building is now closed, however staff are still available via email, further details regarding the current situation can be found here:
Opening Times: SU Closed Bar Closed
Jenny's Semester 1 Round Up
Published: 9th January 2020, 9:00am
Happy New Year everyone! Before we start the next semester, I wanted do a write a short blog post about some of the things I've been working on, but also look at some of my favourite campaigns from Semester 1.
Hidden Course Costs Campaign
My Hidden Course Costs campaign was a big success! This is something that I'm very proud of because raising the profile of these costs was one of the manifesto points I campaigned on. I ran an entire day of events including a panel with NUS Vice President (Higher Education) and 289 students completed my feedback survey about costs. As a result, I have engaged with several major committees and University departments to inform them of the feedback. This really demonstrated the power the collective student voice can have and has helped progress the work I have done.
This was another manifesto point I was delighted to establish in my first month. I managed to complete a full list of timetabled rooms allocated for students to study in throughout Semester 1 and I have secured more rooms for Semester 2 (which you can see below)! The campaign has encouraged the Library to evaluate their current space and start projects on opening a new room downstairs.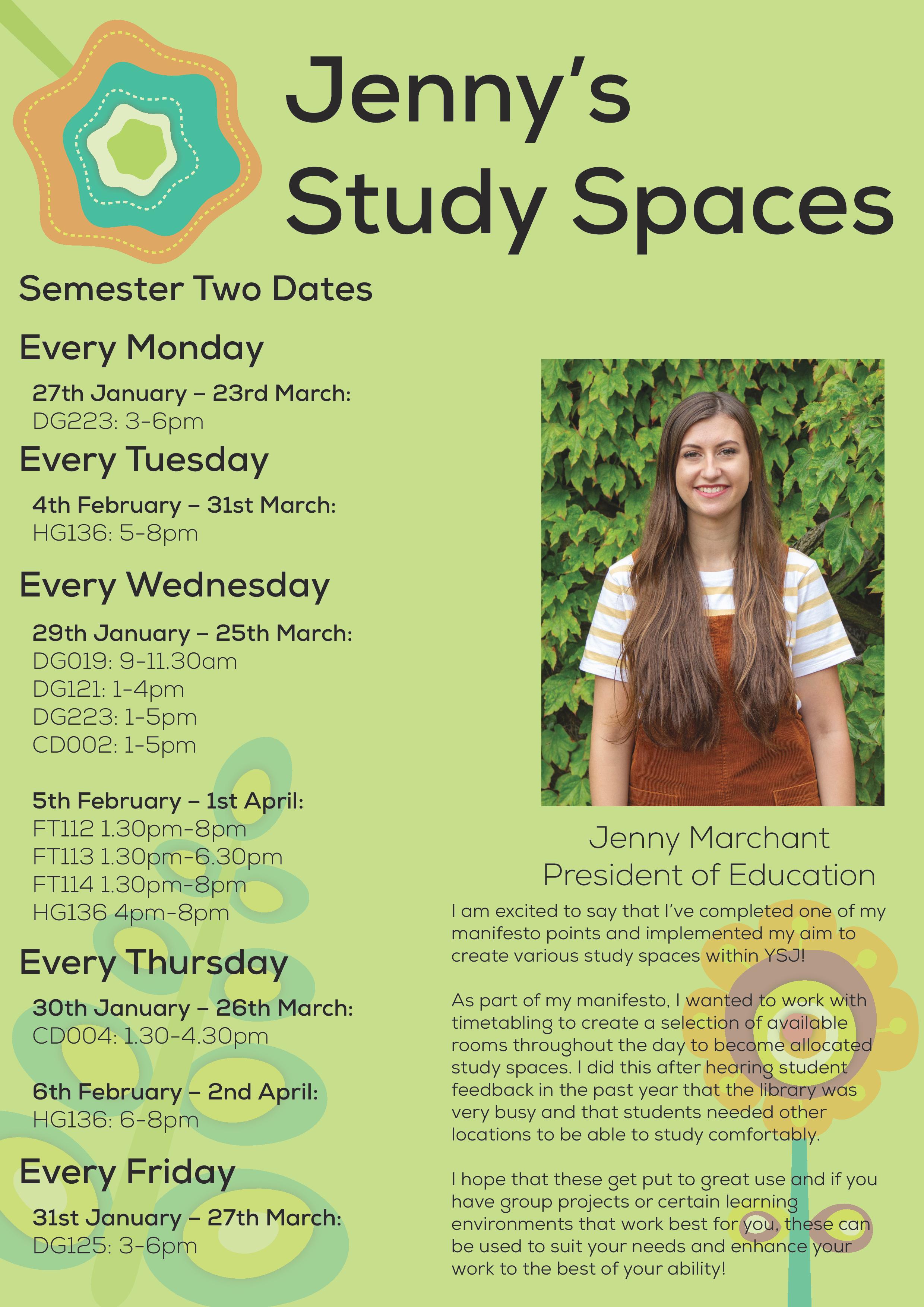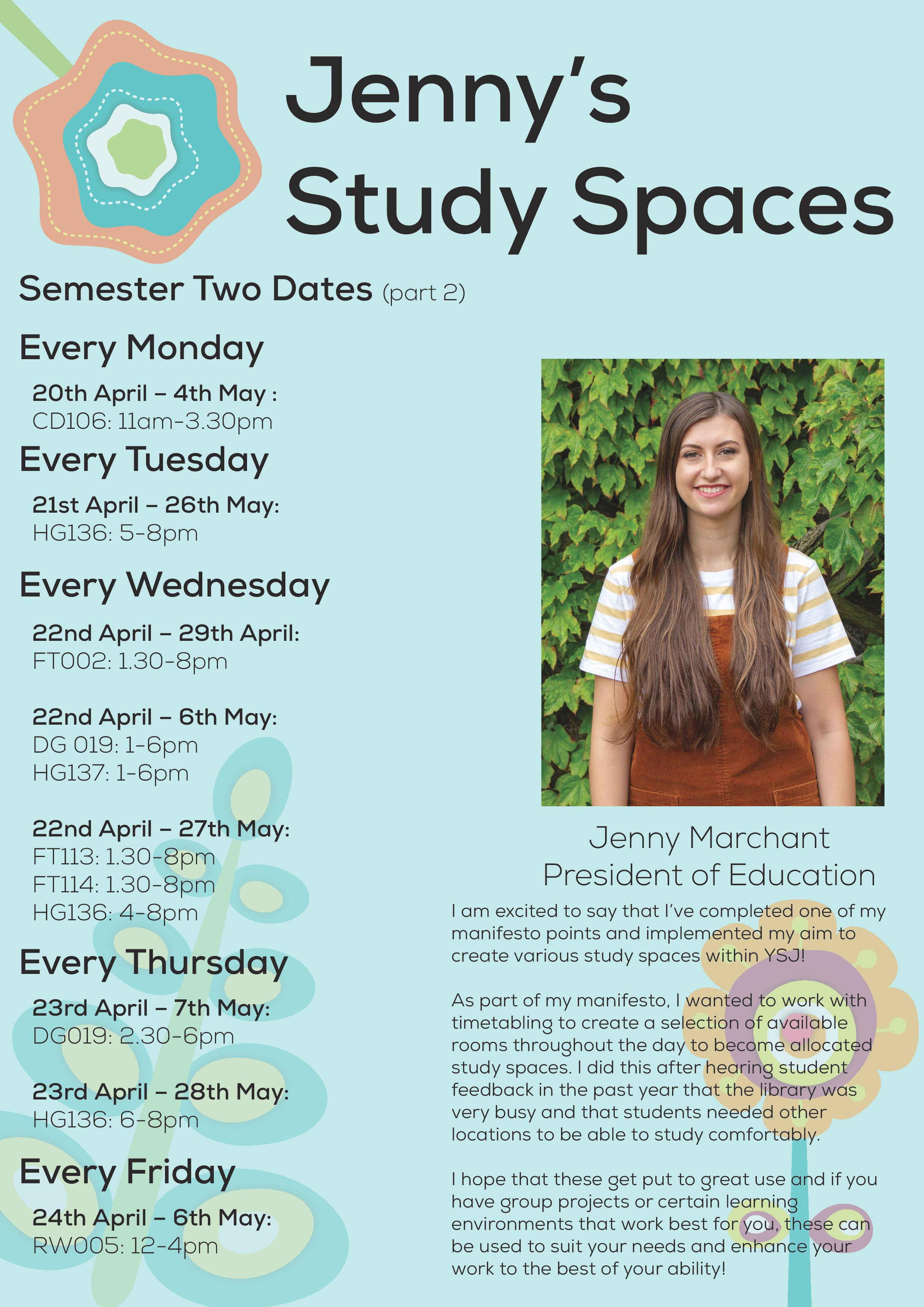 The Presidents are mandated to host 3 zones each per academic year. I'm pleased to say that I've already hosted 2 in Semester 1 – with a fab attendance! The first one had around 80 students attend and the second had 50. This was a great turn-out and I've been able to take the feedback to relevant departments at the University and committees, such as Learning and Teaching.
Register to Vote Campaign
I hosted two Register to Vote campaigns in Semester 1 to ensure that students were eligible to vote in the General Election. The first campaign was in collaboration with City of York Council and the second ran by Students' Union. These were really successful and ensured that 100s of York St John students could make their voice heard.
Alongside this, we hosted a General Election hustings for the York Central constituency. This event had a great turn out, with all 7 candidates attending, along with students and members of the local community.
In Semester 1, I hosted a total of 7 coffee lounges: 4 for postgraduate and mature students, and 3 Study Stress groups. These enabled students to focus on a particular topic and allowed me to obtain and pass on relevant feedback. They also provided an opportunity to socialise with and support fellow students!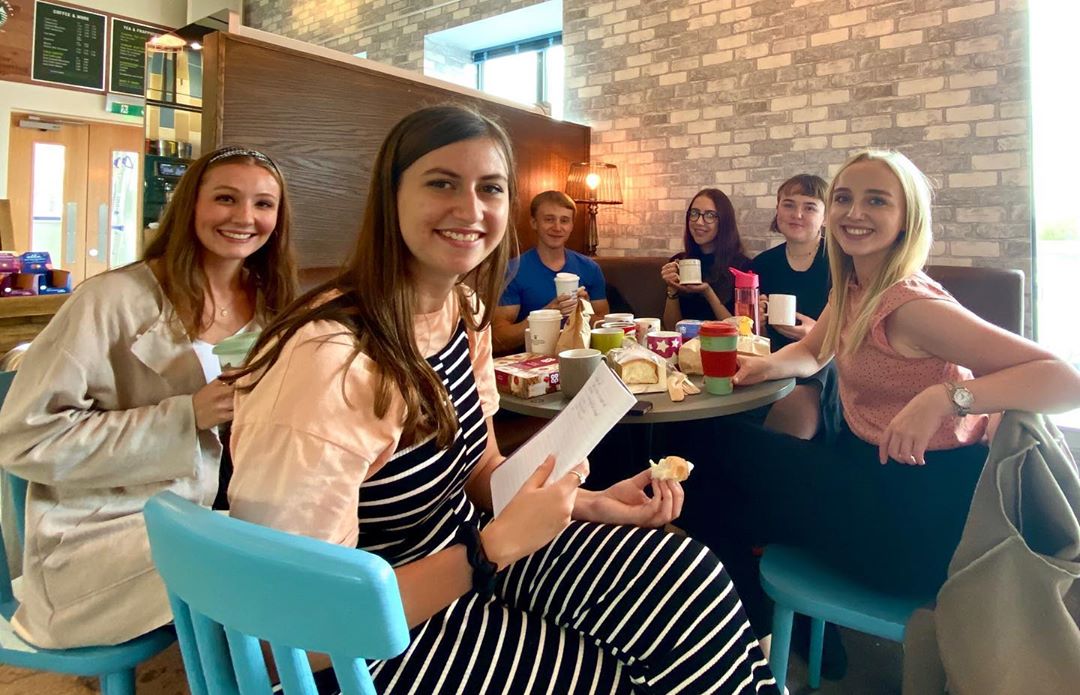 In December, Tim, Kirsten and I worked on the recruitment of the new Vice Chancellor! We also said goodbye to Karen Stanton, and we thank her for the brilliant work across the years.
I also had one-to-one meetings with the Chair of Schools. This was great way to know what each department at the University were up to and how they were getting on.
The Students' Union had some fantastic events to get everyone into the Christmas Spirit! There were some lovely evenings thanks to the YSJ Get Talking event, alongside performances and showcases. As well as this, December saw our annual Christmas Archie's Day, which as per usual, was great fun!
The Students' Union had our Annual General Meeting where we discussed updates from the Students' Union. The Presidents, Chairs of Schools and Liberation Officers all gave a verbal update to the students who attended about what they had be doing.
Awards


Our Contacts
York St. John Students' Union
Lord Mayor's Walk
York, YO31 7EX