YSJSU
Inspiring People in LGBTQ+ History
Inspiring People in LGBTQ+ History
This week of Pride Month we're shining a light on some of the most inspiring people in LGBTQ+ History who have left their mark on the world. Their stories and struggles have helped shaped the LGBTQ+ community and culture that we see today. We've asked our LGBTQ Officer, the Chair of our LGBTQ+ Society, and University staff for their most inspirational queer people of history,
Jonathan Blake
This is topical, given the Channel 4 TV series, IT'S A SIN. Jonathan inspires me for many reasons. You can watch more about Jonathan in the film PRIDE where he is played by actor Dominic West. Diagnosed with HIV (then called HTLV3) in 1982, Jonathan was a founding member of LGSM – Lesbians and Gays Support the Miners. He was 33 when he was diagnosed and the first patient to be diagnosed at Middlesex Hospital, and one of the first to get diagnosed in London in the early 1980's. He has just turned 70. I'm inspired by Jonathan, as he continues to work to promote the U=U awareness campaign, has supported York Pride, and works hard to promote National HIV Testing Week in the UK, encouraging everyone to get tested and break the stigma surrounding diagnosis. - Phillip Gray, Director of International.
Articles to read - https://www.savinglivesuk.com/portfolio/jonathan-blake-hiv-activist/ and https://www.oxmag.co.uk/articles/there-are-no-walls-jonathan-blake/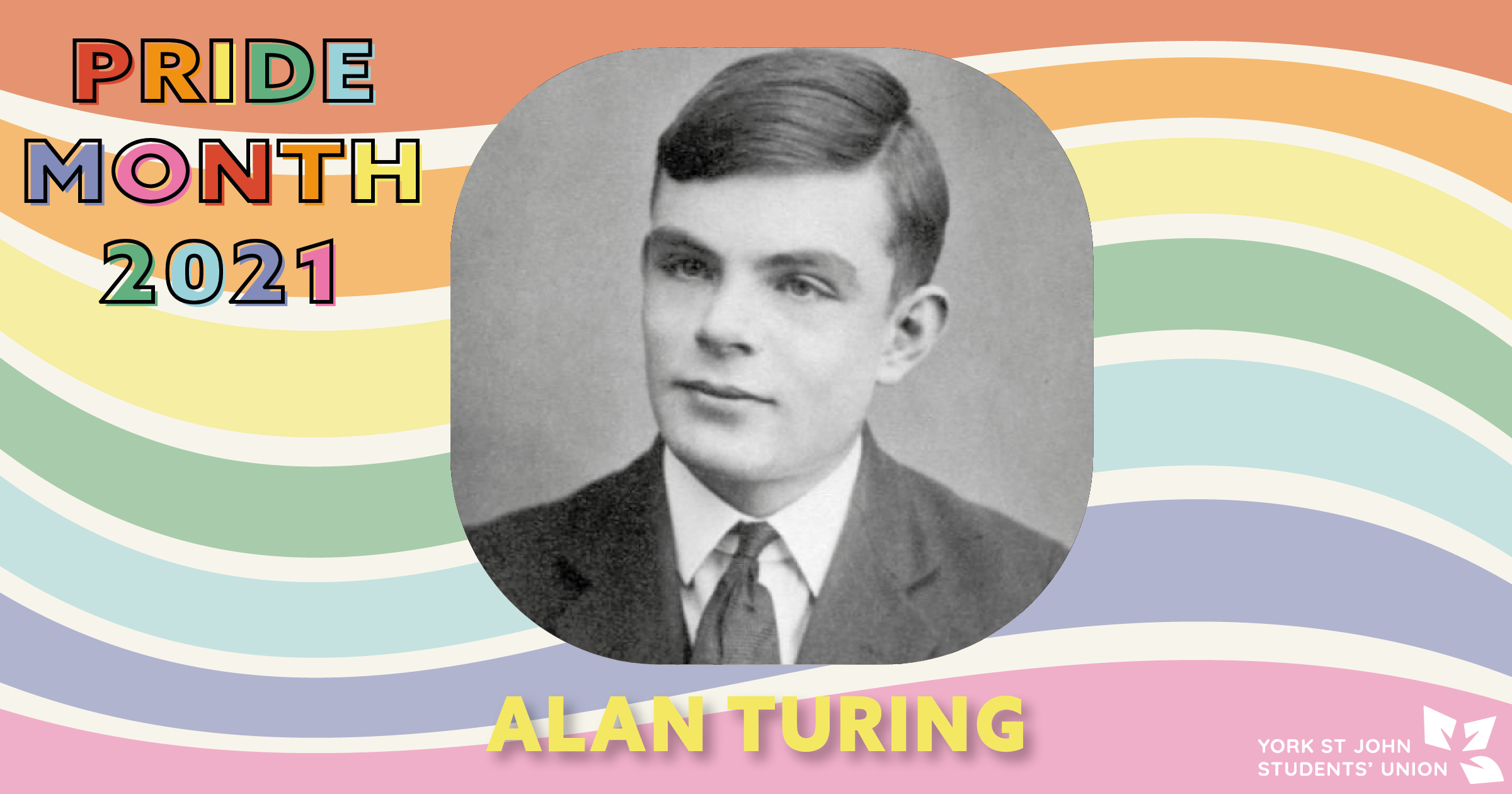 Alan Turing
Alan Turing was an astonishing mathematician who helped crack Nazi code during World War 2. As a gay man during a time when being homosexual was illegal, he was convicted for having a gay relationship. He lost his security clearance and was prevented from code breaking just because he was gay! Even though he died in 1954 he received a pardon in 2013 leading to legislation being introduced to pardon all historical convictions of gay men. He should be remembered as an icon in queer history for what he went through because of his sexuality. - Emily Blamer, LGBTQ Officer
Read about Alan Turing and his £50 notes here: https://www.bbc.co.uk/news/uk-england-manchester-48994393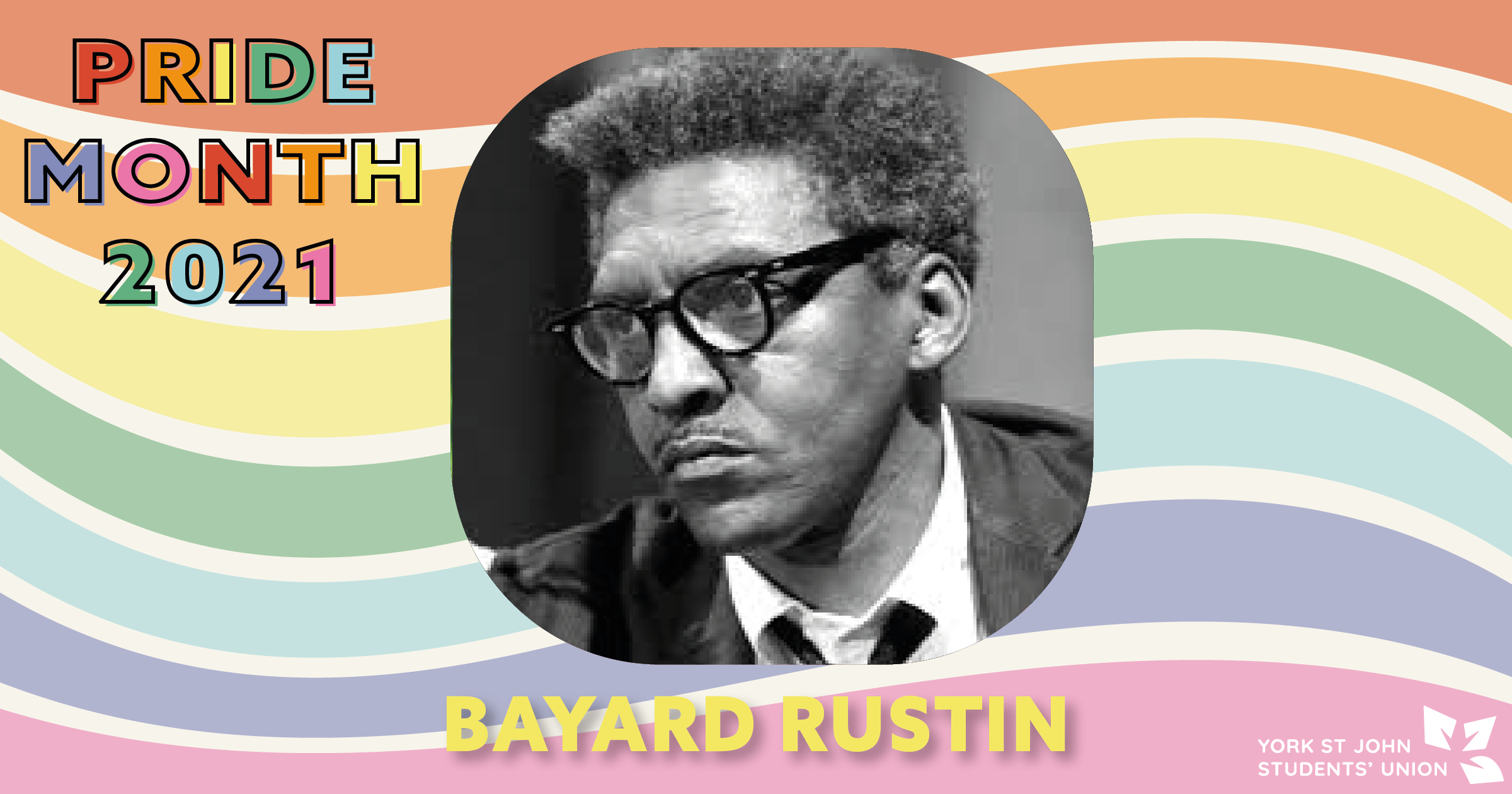 Bayard Rustin
I chose Bayard Rustin because of his key contribution to civil rights for African Americans in the USA in the 1960s. He organised the freedom rides to desegregate the South and was an organiser of the Civil Rights March on Washington for Jobs and Freedom. He was a proud Black gay man who faced prejudice but refused to be silenced. In the words of Eric Marcus, Rustin 'paid a high price for proclaiming who he was long before it was remotely safe to do so. He put himself in harm's way over and over again—subjected to attacks by white supremacists who used his race and sexuality to try to destroy him. But he not only resisted, he triumphed'.
Rustin knew that the struggles for race equality and LGBT equality were interconnected. Here is what Rustin said 'If I've learned anything it is that people, by helping others who are also in trouble, grow in strength to help themselves' he continued 'none of us is free and none of us can practice democracy fully so long as any other segment of the community or any country is not democratic. His bravery and his commitment to the civil rights movement inspires me. - Professor Susan Orr, Pro Vice Chancellor: Learning and Teaching
https://makinggayhistory.com/podcast/bayard-rustin/ - Podcast and information on Bayard Rustin to share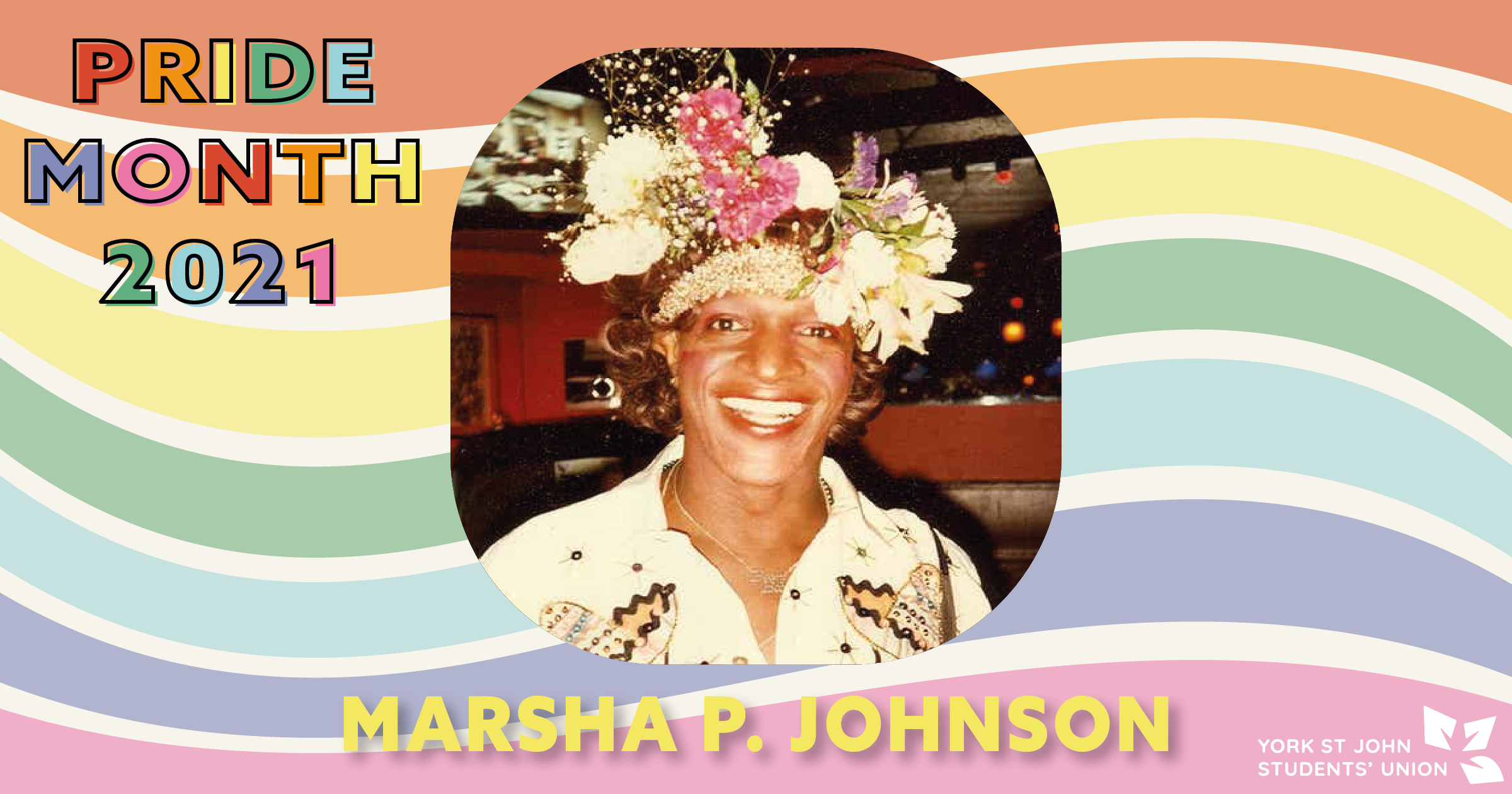 Marsha P Johnson
Marsha P. Johnson was a key figure in the Stonewall Riots of 1969 as an activist and transgender African American woman. Marsha fought for gay rights and with Slyvia Rivera founded Sweet Transvestite Action Revolutionaries (STAR) for gay men and transgender people to seek shelter when they had been kicked out by family members and left homeless. Unfortunately, Marsha P. Johnson was found dead in the Hudson River, with police dismissing it as a suicide attempt. Friends argued tirelessly that she was being harassed a few days before they died. After twenty years of fighting against the police department, the police changed their ruling to an undetermined cause of death, acknowledging that her death could have been due to a hate crime. Marsha helped to fuel the fight for LGBTQ+ rights, fighting and supporting what they believed in and for that, she should be forever remembered. - Emily Balmer, LGBTQ Officer
Read about Marsha in Out History here: https://www.outhistory.org/exhibits/show/tgi-bios/marsha-p-johnson%20
Audre Lorde
As we celebrate the LGBTQ+ community this Pride month and People of History, one figure who deserves attention is the American writer, Audre Lorde. Lorde openly discussed and wrote about the pervasive racial inequalities in society, as a self-described "black, lesbian, mother, warrior, poet" she was no stranger to it but instead of shrinking from this, she used poetry to champion and give recognition to differences in race, sexuality and class, while advocating for civil and human rights.
As an activist, Lorde emphasised the silent dangers of acquiescence and inaction, she encourages us to not live our lives in silence because as she states in her powerful mantra "your silence will not protect you". It is, therefore, not enough to recognise an injustice; it must be spoken out against. You cannot stay silent on topics such as racism and the issues that the LGBTQ+ community continues to face.
Audre Lorde speaks for people who stood up for equality and freedom but were knocked down and silenced. Her rage rings through these times. Now, just as much as ever, Audre Lorde instructs us that "it is not difference which immobilises us, but silence. And there are so many silences to be broken". - Kalen Reid, Chair of LGBTQ+ Society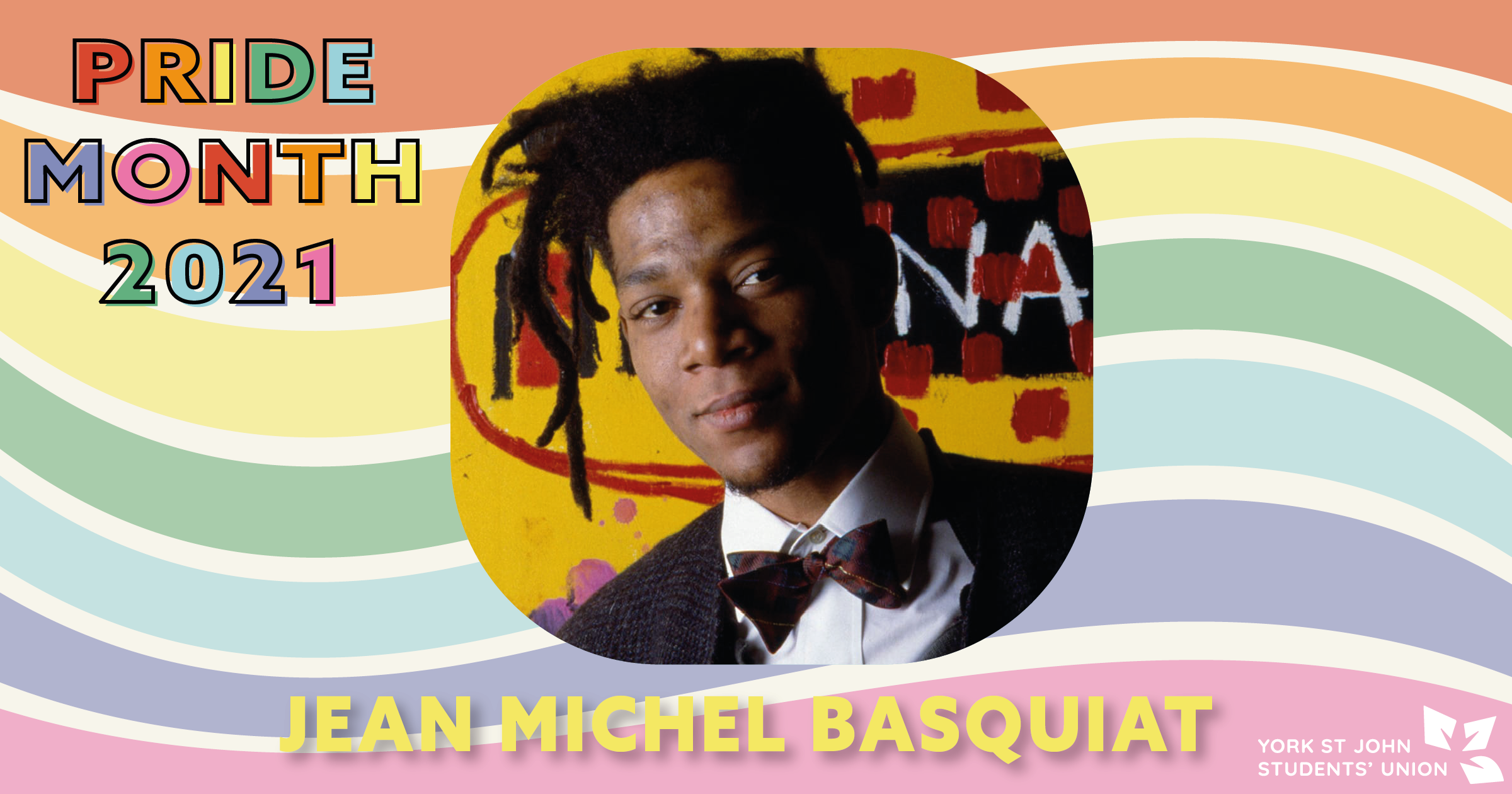 Jean-Michel Basquiat
Jean-Michel Basquiat was beloved by the art world for his impactful iconography, his colorful, late 20th-century street art, and his celebrity in the avant-garde world of wealthy art patrons. He was a Black Street kid who excelled in the stuffy world of white philanthropy and arts patronage. But those conflicting worlds often clashed within him and created conflicts that were, at times, a challenge to contain. The title of Greg Tate's "Flyboy in the Buttermilk" alluded to Basquiat's role in the downtown art scene, which he portrayed as a bland, white sea in which Jean-Michel drowned.
We remember Jean-Michel Basquiat in recognition of his many astounding artistic accomplishments and thank this highly talented creative explorer for his many contributions to the arts, and to our community. Jean-Michel Basquiat's work continues to command high prices, and gallery shows are staged around the world, including at London's Barbican through early 2018. - Kalen Reid, Chair of LGBTQ+ Society
Gertrude Pridgett "Ma" Rainey
Gertrude "Ma" Rainey was hailed as the "Mother of the Blues" and was a bisexual Black singer who has and continues to inspire generations of musicians. In 1904, Rainey married the comedian, dancer and vocalist Will Rainey, and they toured as a duo with a variety of minstrel troupes, billing themselves as Ma and Pa Rainey. At some point during her travels, Rainey became acquainted with a young Bessie Smith. Not only were they both virtuoso singers; they shared a love of bold, risqué lyrics, and each proudly proclaimed her bisexuality.
Rainey's themes and lyrics were as innovative as her methods. Although Rainey's songs are full of infidelity, abandonment, and heartbreak—she sang the blues. Angela Davis points out in 2011's Blues Legacies and Black Feminism, Rainey's songs are full of women who "explicitly celebrate their right to conduct themselves as expansively and even as undesirably as men," drinking, carousing, even baiting law enforcement.
In the late 1960s, at the height of the Black Arts Movement, Rainey continued to hold a special significance in the heart of black America as an early ambassador of empowered sexuality and personal liberation. The poet Al Young wrote "A Dance for Ma Rainey" in 1969, proclaiming: "I'm going to be just like you, Ma/Rainey this Monday morning." - Kalen Reid, Chair of LGBTQ+ Society
Recent Posts