YSJSU
The First Big Wednesday Blog
The First Big Wednesday Blog
The First Big Wednesday is over... and what a Wednesday it was!
We went into the day with a six-year undefeated record, so no pressure! Considering last year was the closest yet we had to be prepared for the competition we could be facing. Especially as this year we would be battling it out against Sunderland University for the newly named 'David Fleming Cup'.
David Fleming was a former Pro-Vice Chancellor of Sunderland University and previous Vice Chancellor here at York St John University. He was indeed pivotal for our Haxby Road Sporting facilities. Unfortunately, David passed away earlier this year and we wanted to show our respect and condolences by naming the trophy after him.
This year's Clash of The Minsters saw two University compete in 19 fixtures across 14 hours. In addition, some York St John Clubs hosted joint training sessions/friendly fixtures with University of Sunderland clubs.
The results are shown below, but with so many to see I've picked out some notable fixtures.
Overall Score: York St John University 39 – 17 University of Sunderland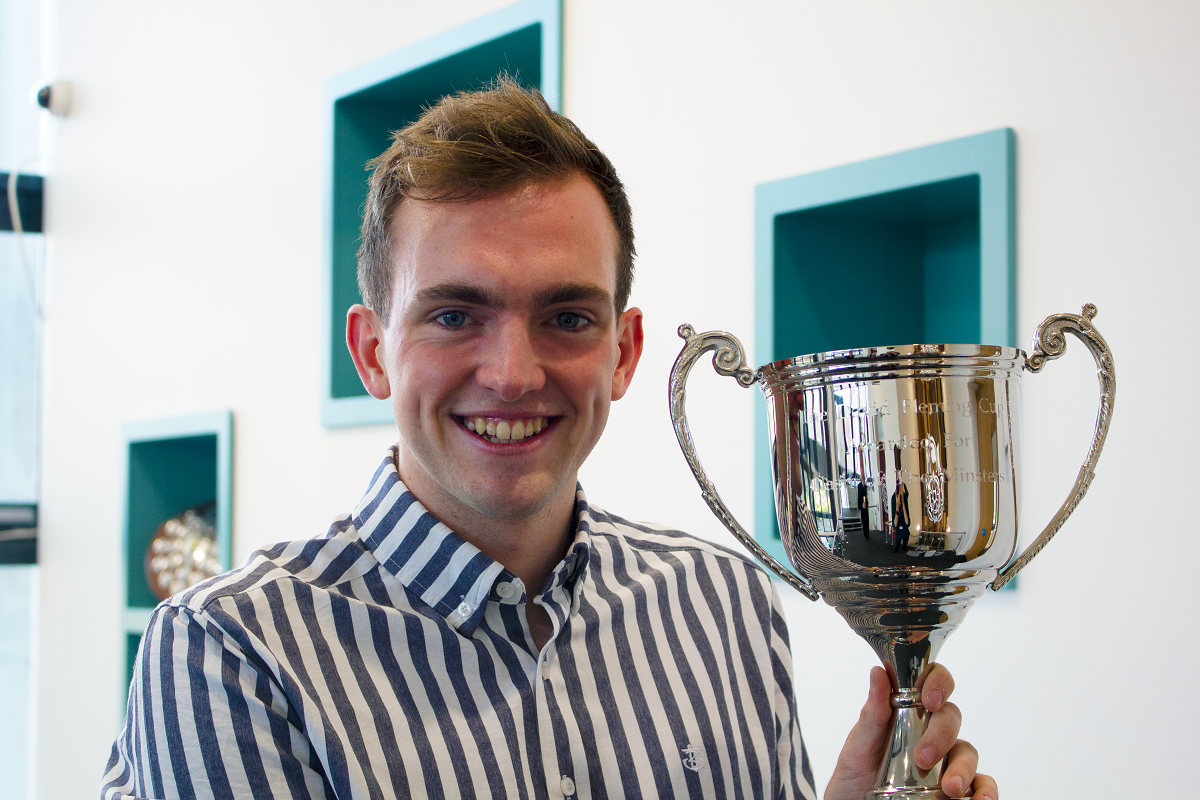 Men's Futsal 2nd team
York St John 5-0 University of Sunderland
The first fixture of the day saw both universities' Futsal 2nd teams go head to head. With the first Varsity points up for grabs and all-important bragging rights on the line, this was a highly anticipated fixture. York St John took an early lead with a great finish from just outside the box. We went on to consolidate the victory by scoring four more and a strong defensive performance.
Netball 2nd and 3rd team
York St John 83 - 10 University of Sunderland (2nds)
York St John 81 - 2 University of Sunderland (3rds)
Later in the day, Netball were competing in the Sports Barn to compete for a vast amount of points considering how many teams they had involved in the day. The two fixtures I've picked out were outstanding on the day and the teams just couldn't stop scoring! It looks like all their teams are well prepared for the BUCS seasons and look forward to watching more of their performances from this week.
Rowing
York St John 5 - 1 University of Sunderland
As we all know, the weather hasn't been the nicest over the past few weeks. Consequently, the river is far too high for any rowing to take places. Regardless of this the rowing club intuitively planned a 'BUCS indoors' style event. Rowers from both institutions went head to head over a set distance. York St John came out winners of five out of six competitions. An impressive result and extremely encouraging considering BUCS indoors will be taking place next month.
Women's Football 1st team

York St John 3 - 2 University of Sunderland

The women's 1st team has an incredible turn out of over twenty-six students warmed up and ready to play in their match against Sunderland. A very difficult game considering Sunderland's team are the league above. In addition, the game was extremely important with maximum varsity points up for grabs. In what was an extremely nail-biting game, the girls put in a heroic performance to keep the lead.
Full Results
| Fixture | Winner | Score | Points | Varsity Score |
| --- | --- | --- | --- | --- |
| Men's Futsal 2nds | York St John | 5-0 | 3 | 3-0 |
| Men's Futsal 1st | York St John | 6-3 | 4 | 7-0 |
| Women's Futsal 1st | Sunderland | 1-12 | 4 | 7-4 |
| Rowing | York St John | 5-0 | 2 | 9-4 |
| Men's Football 4th | York St John | 8-1 | 2 | 11-4 |
| American Football | York St John | 32-20 | 2 | 13-4 |
| Women's Netball 3rd | York St John | 81-2 | 2 | 15-4 |
| Swimming | York St John | 43-40 | 2 | 17-4 |
| Men's Football 3rd | Draw | 1-1 | 2 | 18-5 |
| Men's Football 2nd | York St John | 9-0 | 3 | 21-5 |
| Men's Badminton 1st | Sunderland | 3-5 | 4 | 21-9 |
| Women's Netball 2nd | York St John | 83-10 | 3 | 24-9 |
| Women's Football 1st | York St John | 3-2 | 4 | 28-9 |
| Men's Football 1st | York St John | 5-1 | 4 | 32-9 |
| Men's Basketball 1st | York St John | 53-51 | 3 | 35-9 |
| Women's Netball 1st | York St John | 62-13 | 4 | 39-9 |
| Women's Basketball 1st | Sunderland | 25-59 | 4 | 39-13 |
| Men's Basketball 1st | Sunderland | 61-97 | 4 | 39-17 |
Recent Posts