Societies Update | February
Published: 13th March 2019, 4:00pm
It's been such a great start to Semester 2 watching our amazing Societies getting stuck right back in! We've had various events, social activities, charity fundraisers and general meetings taking place this month which has helped increase membership and Society engagement hugely. Check out some highlights below;
Feminist Society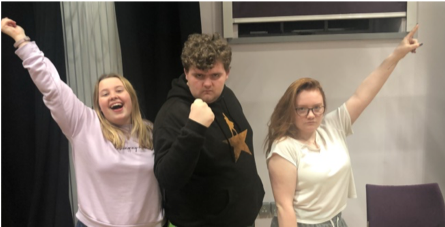 Feminist Soicety have had some great debates this month. They've been looking at what art is, and more specifically, what fashion is regarding the recent spotlight in the news for clothing that has been considered as triggering or even racist. This has been in connection to the consent and bystander training ran by 'All About Respect'; they thought it would be interested to discuss how consent can be portrayed in art and how fashion is often used as an excuse for ignoring the matter.
Panto Society
As a new Society, Panto Society have worked very hard this month towards their first ever show coming up in April. They've been rehearsing between Temple Hall and the Cordukes building and have worked exceptionally hard even when certain issues have arised, they've been keen to keep going and now it looks to be a brilliant show. Head along to support them with their production of Robin Hood, details on the SU website!
Christian Union
The Christian Union have been busy over the past month getting settled back into the swing of things. In early February we elected our new committee for the year ahead and followed the election with a movie night.
The next week we had a meeting all about the importance of sharing our life story and how it can benefit others when they know there are other people who have gone through the same difficult situations as themselves.
On the 21st February, there was a good turn out for our 'Homeless Outreach' night. We met for our normal meeting where we spent time to write down and say our prayers (pictured below) and praise God for all that he has given to us. We then went out with the aim to distribute a large amount of chips, chocolate, fruit, water bottles and copies of the Gospel of John. We spent around an hour walking around York handing out food and talking to those who are not as fortunate as ourselves. It was an eye opening experience for many of our members and something we will definitely be doing again and hopefully turn it into a regular activity. We would like to thank all of those who came to help and a special mention to 'The Sea Catcher' fish and chips shop for providing us with the chips.
A very encouraging start to the term for the CU and we hope to build upon this in the months to come!
Asian Culture Society
成人式✖節分
The last big event ACS had was for 成人の日 Seijin No Hi (Coming of Age Day) and 節分 Setsubun on Friday of week 1 (1st Feb). Coming of Age Day celebrates all people in Japan who turned 20 in the past year and Setsubun marks the beginning of spring.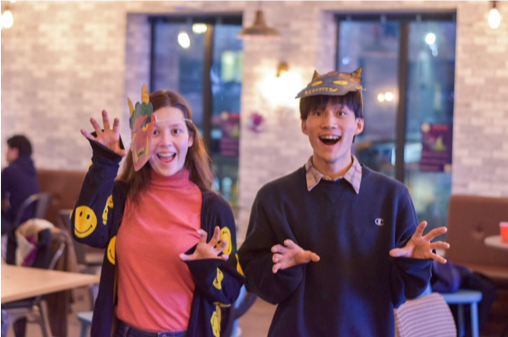 20 is a pivotal moment in most people's lives in Japan - it's the age when Japanese people legally become adults and it's usually been a year or so since people have graduated high school. Coming of Age Day is usually a day when people meet their old school friends for probably one of the last times in their life before their paths naturally go separate ways and they enter the world of work.
Setsubun is sometimes called the "bean-throwing festival". It's always at the beginning of February and people usually make ehoumaki - which directly translates as "lucky direction rolls" - and throw beans at people wearing demon masks. Ehoumaki should be eaten whilst facing the year's lucky direction (east-southeast for 2019) and in complete silence. If you talk whilst eating ehoumaki, the wishes you make won't come true! Then, the bean-throwing commences. Beans are thrown to ward off evil demons and bad luck for the rest of the year.
For this event, we played nostalgic Japanese music from the past 20 years and we made ehoumaki (lucky direction rolls) together. We tried to eat those rolls silently whilst making a wish (because if you talk, it doesn't come true!) before throwing soy beans at demons that appeared later! Attached are photos of me and Kosaku Mimida and our demon masks. We were the ones people threw beans at.
This event was hosted by Asian Culture Society with the help and support of the Student's Union and Global Campus. Without the help of many people, this event wouldn't have been possible.
History Society
This month YSJ History Society has celebrated LGBTQ+ History Month. We organised a history-based music quiz in order to raise awareness for the cause, and the battle that is still being faced today to fight for equality.
We also held a history-based picture hunt around the University in which members were given clues in order to find historical figures. This helped to introduce our first years to new areas and buildings within campus that they might not have explored themselves.
Singing Society
"Before Christmas we helped out the Biomedical Science course at uni and recorded a special science themed 12 days of Christmas song.
This month we have been working closely with Gemma Linfoot-King from the All About Respect Campaign to plan Singing Society's input in the campaign. We pitched an idea for a campaign video, planned and completed it.We sang Guiding Light by Mumford and Sons in the Quad filmed live and recorded by YSJ TV and Film students for release in the campaign week in March. The song was chosen to fit the theme of 'Shine a Light' on sexual harassment and the support system the university has in place for sexual assault and rape survivors. We have lots of other plans for involvement in the campaign week in March.
We had a movie afternoon social where we booked a room in uni and watched The Greatest Showman with popcorn and snacks. A few of our members went along to the Christian Union's Board Game night and took part in some competitive games of Cluedo, among other games.
We also attended the university held Brooklyn 99 quiz with the Creative Writing Society, to raise money for the Sports and Society Dinners, where we came 2nd!"
It's been a great month for our Societies, and we can't wait to see what they get up to in the final few months of the academic year. Thank you to you all for the work you do, and for sending such great content over for us to share with the students of YSJSU!
Awards


Our Contacts
York St. John Students' Union
Lord Mayor's Walk
York, YO31 7EX